Whether you prefer to visit some of Lanark County's most beautiful sights on foot, by bicycle or on an ATV, you'll likely find a trail to take you there. Trails and pathways crisscross this amazing region, offering access to historic sites in small towns and gorgeous natural features alike. Take a challenging hike or a relaxing walk in nature or by waters edge. To see an introduction to our trails by the Lanark County Municipal Trails Corporation, please click the following link: ON THE TRAILS
Visit our interactive map to view the Lanark County trails.
For a complete list of recreational trails within Lanark County, please visit our Lanark County Tourism website.
Baird Trail
Dubbed one of the most beautiful trails around, this set of three loops through forests, featuring boardwalks over a sedge wetland, offers fantastic ecological values and giant maple and beech trees coupled with evidence of pioneer farming and red pine plantations. Parking, picnic tables and interpretive signs on site. Located at 1024 Herron Mills Rd., Lanark Highlands. 613-267-4200, ext. 3170.
Conboy Trail
This beautiful walking trail is located on a 98 acre parcel of County Forest in Tay Valley Township. Take Highway 7 turn south onto Cameron Side Road (12 kms west of Perth) and turn west onto Bathurst 5th Concession. The trail head parking lot is on the north side one km from the Cameron Side Rd intersection. The rolling trail features numerous walking paths with a scenic mixed bush.
Ottawa Valley Recreational Trail (OVRT)
If you've ever wanted to travel off-road in an award-winning region, the time is now. The opening of the Ottawa Valley Rail Trail (OVRT) in Lanark County has created a transportation corridor for pedestrians, cyclists, four-wheelers, and snowmobilers travelling from Sturgess Road (just north of Smiths Falls), to Arnprior and beyond. With a multi-purpose, year-round use, the OVRT will connect three of Lanark County's prettiest towns. Visit their website to learn more.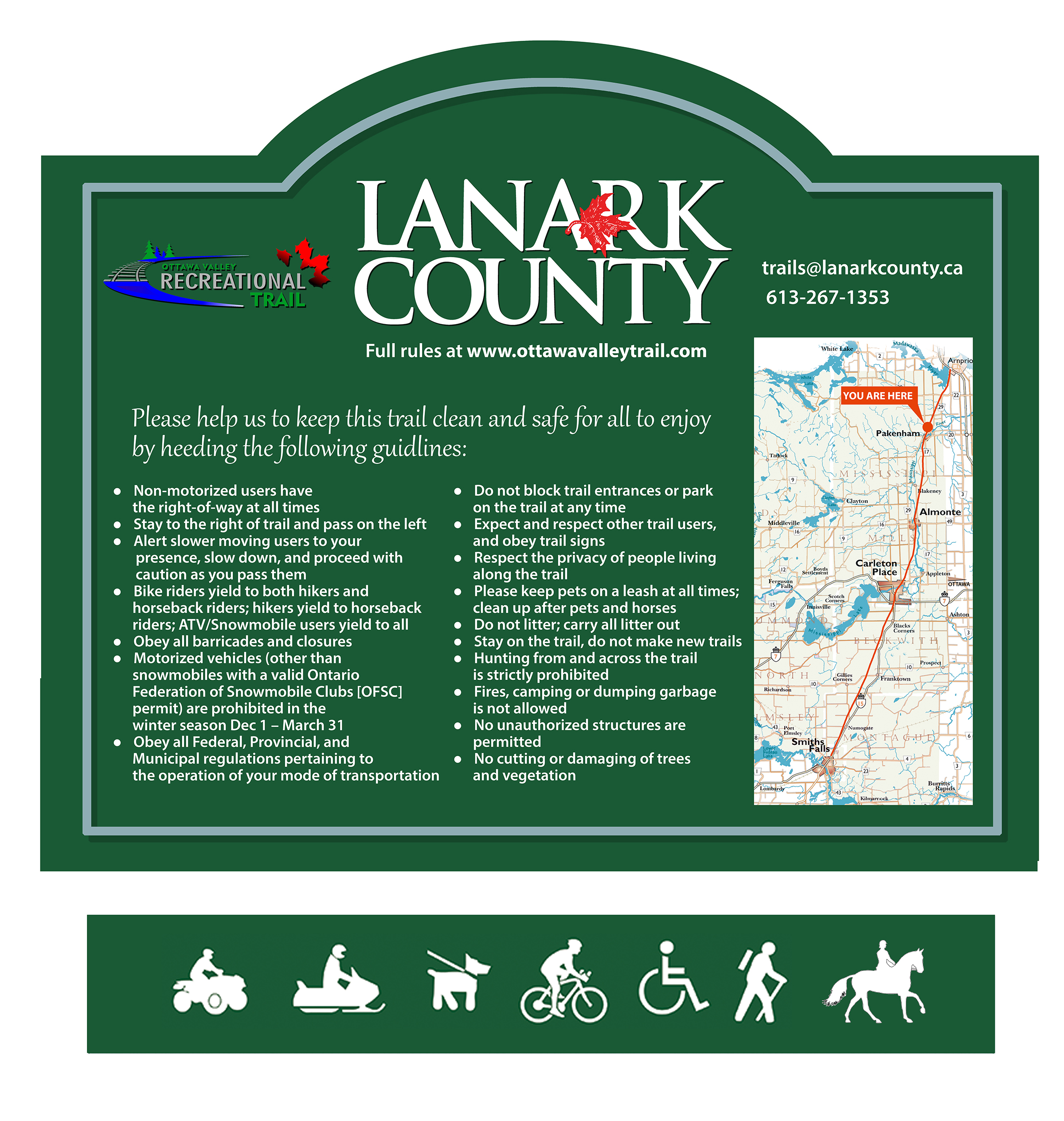 Tay Havelock Trail
The Tay Havelock Trail is a gateway to the beauty of the Canadian Shield. The Lanark County portion starts just East of Perth with a Trail Head Parking lot located on the South Side of Highway 7 (500m west of the Highway 7 stop lights at Glen Tay).
The Lanark County portion is 25km heading directly west. This section is in great shape with a stone dust surface perfect for many multi-use activities. The views of lakes, rivers with majestic towering pines make you think Algonquin Park. The trail continues in Frontenac County to Sharbot Lake where is intersects the K&P trail. You can then head north towards Calabogie, south to Kingston or continue west to Havelock. For more information and an interactive map visit our tourism website
Tay River Pathway
Located on the western outskirts of Perth behind the Lanark County Administration Building and adjacent to the Trans Canada Trail, this 1.5-km loop trail provides a lovely accessible outdoor experience. It passes the Round Garden, which is a unique garden designed for all the senses, as well as community gardens and a white pine reforestation. It is suitable for wheelchairs and includes several park benches. 613-267-4200 (Lanark County)