Embark on an enchanting journey through Almonte, a town that has graciously lent its captivating beauty to some of your most cherished holiday rom-coms. If you've ever found yourself wrapped up in the warmth of Hallmark channel movies, you're in for a delightful surprise right here in Ontario. Almonte's streets have been graced by the magic of cinema, turning everyday moments into cinematic treasures that beckon you to explore and relive the joy.
---
Start Here: Mill Street
Photo Gallery: Mill Street will appear here on the public site.
Cinematic Shopping: Explore Stores Featured in Films

📍 72 Mill St, Almonte, ON K0A 1A0
Set within the charming backdrop of Mill Street, The Exchange is a feature comedy film that takes advantage of various locations, including the vibrant Cheerfully Made Goods + Markets. This bustling hub serves as a haven for local artisans, showcasing their unique creations.
---
Heritage Court Mall
📍 14 Mill St, Almonte, ON K0A 1A0
Calling all fans of Love Triangle Nightmare ! Step into the world of your favorite movie as you explore the very location where it all unfolded – Heritage Court, the stunning indoor shopping mall that set the stage for the thrilling romance. As you stroll through Heritage Court, indulge in a delightful shopping experience amidst its charming local stores.
---
L.G. Lee and Sons Hardware Store
📍 36 Mill St, Almonte, ON K0A 1A0
A highlight of Mill Street, this hardware store has gained fame for its role in the heartwarming movie Unlocking Christmas, where it transforms into Sullivan Antique and Collectibles. The shop's cinematic allure is further enhanced by its real-world presence, inviting you to step into the magic of the film.

---
Sivarulrasa Gallery
📍 34 Mill St, Almonte, ON K0A 1A0

Step into the enchanting world of the
Christmas Festival of Ice
movie as you explore Sivarularasa Gallery, the very location where captivating scenes were filmed. Embrace the artistic ambiance of Almonte's cultural hub, where the gallery invites you to experience intimate cultural soirees with music, lectures, and poetry, all within the elegant setting of a true art lover's haven.
Cinematic Dining: On-Screen Elegance
After a stroll through the stores, you can extend the experience by dining at the restaurant featured in the same movie, enjoying a meal that mirrors the festive charm captured on screen.
---
📍 73 Mill St, Almonte, ON K0A 1A0
The delightful setting that played a starring role in two films, featuring movies such as Maps and Mistletoe, The Rooftop Christmas Tree and Christmas Scavenger Hunts. Step into the scenes of movie magic at Café Postino!. The magic of the season comes alive in this picturesque spot, inviting you to immerse yourself in the heartwarming atmosphere and embrace the joy of the holidays.
---
📍 78 Mill St, Almonte, ON K0A 1A0
Recognizable to fans of Christmas Around The Corner, this charming café experienced a cinematic transformation into a cozy bookshop for filming. The ambiance and charm that drew you into the movie are ready to be experienced firsthand.
---
📍 84 Mill St, Almonte, ON K0A 1A0
Familiar to fans of Christmas Festival of Ice, the Superior Restaurant captures the essence of the holiday season with its on-screen appearances. As you dine here, you can relive the enchanting moments depicted in the movies and savor a culinary experience that's both delectable and cinematic.
Charming Stores on Mill Street

Mill Street is more than just a picturesque backdrop; it's a true cinematic gem where stylish stores take center stage in numerous movies, such as Awakening the Zodiac, a Chance for Christmas, Love on a Limb and more. As you stroll along this charming street, you'll find yourself in the midst of scenes that once graced the silver screen.

It's a unique and enchanting way to explore Almonte's cinematic side while indulging in a delightful shopping experience. Here's a glimpse of some stores you can discover, with plenty more awaiting your exploration:
---
Almonte Antiques & Collectibles
📍 26 Mill St, Almonte, ON K0A 1A0
Dive into a treasure trove of finds at Almonte Antiques & Collectibles, a multi-vendor market with over 50 booths. Explore vintage items, collectibles, and more from a variety of vendors.
---
📍 63 Mill St, Almonte, ON K0A 1A0
Experience the creativity of highly skilled artists from Ontario and Quebec at General Fine Craft. This commercial gallery showcases both functional and non-functional fine craft and art, providing a space for innovative works.
---
📍 52 Mill St, Almonte, ON K0A 1A0
Discover an excellent selection of local and international titles at Mill Street Books. They also host author readings and a book club, creating a vibrant literary community.
Beyond the Big Screen: More to Explore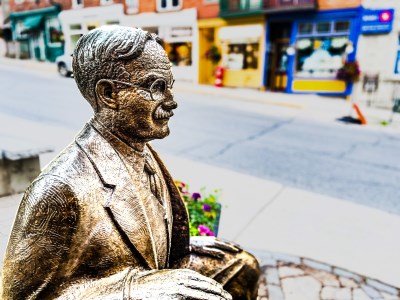 Step into history by visiting the captivating James Naismith's statue, a tribute to the brilliant mind behind the invention of basketball. Born and raised just outside Almonte, Dr. James Naismith's legacy reaches far beyond the boundaries of our town. Not only did he pioneer the creation of basketball in 1891, but his innovative spirit extended to introducing the first football helmet and penning the original basketball rulebook.

Immerse yourself in his remarkable journey as the documentary Basketball Man chronicles his life, with parts of the film shot right here in Almonte. Explore the statue and let the story of this exceptional individual inspire you.

📍 73 Mill St, Almonte, ON K0A 1A0



Next Stop: Almonte Old Town Hall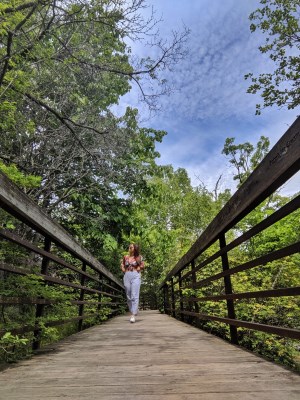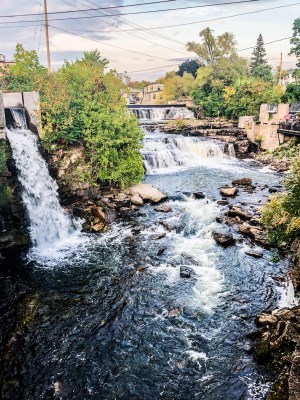 Captivating Cinematic Gem: Almonte's Historic Old Town Hall
Discover Almonte's Movie Magic at the Old Town Hall
Step into the enchanting world of cinematic history at the Almonte Old Town Hall, an iconic structure erected in 1885. This charming venue has graced the silver screen in various movies, including the heartwarming Christmas Scavenger Hunt and the touching Seeds of Love. Beyond its cinematic fame, the Old Town Hall has worn many hats throughout its rich history. Initially serving as town offices and council chambers, it has also housed the fire department, municipal library, and even local jail cells.
---
A Hub of Heritage and Entertainment
Step into history and witness the remarkable evolution of the Almonte Old Town Hall, a true gem built in 1885. Beyond its historical significance, this iconic building has morphed into a versatile and vibrant hub of creativity. As you explore its grandeur, don't miss the chance to immerse yourself in the lively events that grace its halls.

Experience captivating performances that range from theatre productions to musical concerts, and keep an eye out for exciting movie screenings that come to life on the very same premises. Enrich your visit by embracing the dynamic cultural scene that unfolds within these walls, and let the Old Town Hall be your gateway to a world of entertainment, art, and shared experiences.
---
Your Visitor Center and More
Nestled alongside the picturesque Mississippi River amidst the reimagined limestone mill buildings of Almonte, the Old Town Hall's park-like setting beckons visitors to indulge in its tranquil surroundings. Beyond its captivating charm, the Old Town Hall now stands as a comprehensive Information Hub, offering a wealth of resources to enhance your Almonte experience. Explore an array of useful information, from printed walking tour guides that unravel the hidden gems of Mississippi Mills to curated shopping lists that lead you to the finest local boutiques and stores.
Begin Your Riverwalk Adventure at the Old Town Hall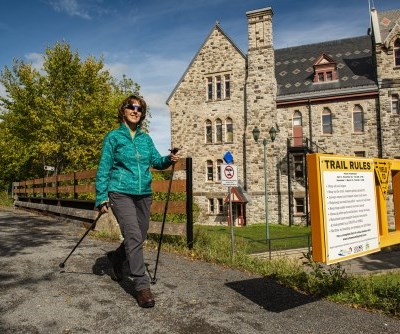 After immersing yourself in the vibrant energy of downtown Almonte's bustling streets and charming stores, why not continue your exploration with a leisurely stroll along the Almonte Riverwalk? This picturesque pathway offers a serene escape, inviting you to meander alongside the majestic Mississippi River and through the heart of historic Almonte.
Enriching your journey are the intriguing historical sites peppered along the Riverwalk. These hallowed spots include the remnants of the Mississippi Iron Works, the venerable Thoburn Mill, and the iconic railway crossing. Each of these locales offers a glimpse into the area's illustrious past, with fascinating details thoughtfully placed along the path to enhance your exploration.

Brochures available in the Information Office, located at the Almonte Old Town Hall.

Next Stop: The Mississippi Valley Textile Museum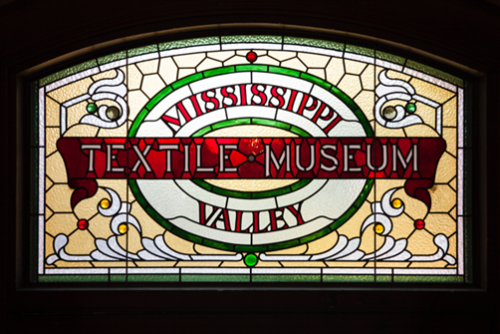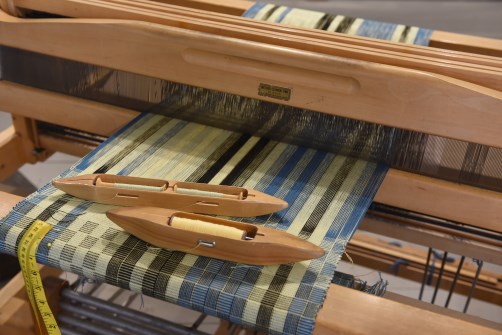 The Mississippi Valley Textile Museum and Its Cinematic Legacy
Cinematic Charms and Historic Treasures
Step into a world where movies come to life at the Mississippi Valley Textile Museum. This captivating destination has served as the backdrop for beloved films like Hallmark's Unlocking Christmas and A Cheerful Christmas. Immerse yourself in the very locations that graced the silver screen and experience the magic of these cinematic moments.
---
Preserving Stories, Enriching Lives
Beyond its cinematic allure, the Mississippi Valley Textile Museum is a custodian of local history. Delve into the tales of mill workers and the intricate tapestry of the local labour movement. As you explore the museum's exhibitions, you'll discover a rich tapestry of stories that have shaped the community.
---
Creative Exploration and Artisan Workshops
Unleash your creativity and expand your skills through the museum's engaging workshops. Whether it's learning the art of weaving or crafting pine needle baskets, these hands-on experiences offer a chance to connect with local artists and embrace the artistry of textile creation.
---
Fibrefest: A Textile Wonderland
Mark your calendar for Fibrefest, an annual celebration that weaves together the passions of textile enthusiasts. Here, weaving, sewing, and textiles aficionados gather to share their love for all things fiber-related. Engage in diverse workshops, explore a vibrant array of vendors, and witness captivating demonstrations. The event is a hub of creativity and a meeting ground for those who cherish the world of textiles.
Local Designers & Textiles
After exploring the rich history of textile industry at the Mississippi Valley Textile Museum, take the opportunity to immerse yourself further in the world of fabrics and fashion. Venture into the heart of our charming town and discover the studios of local designers, where innovation and artistry come to life.

---
📍
79 Mill St, Almonte, ON K0A 1A0
Discover Duffield Design, a fashion studio by Megan Duffield, where sustainability meets style. Experience timeless pieces that embody both eco-consciousness and enduring elegance.
---
Judy Joannou Designs
📍 83 Mill St, Almonte, ON K0A 1A0
Discover chic and comfortable fashion proudly made in Canada at Judy Joannou Designs. From sizes XS-XXL, Judy's exclusive line of fashions awaits, alongside a curated selection of complementary Canadian brands hand-picked by Judy herself.
---
Kehla Design Studio
📍 88 Queen St SS 1, Almonte, ON K0A 1A0
With a passion for perfection and an unwavering commitment to craftsmanship, Kehla Design Studio is a sanctuary where jewelry comes to life. The studio's devotion to excellence ensures that each jewelry piece exudes the highest quality and precision, reflecting the true essence of fine craftsmanship.
---
As you meander through Almonte's picturesque streets, you'll also encounter a range of local stores offering a plethora of materials, fabrics, and tools.
---
7 Mill St, Almonte, ON K0A 1A0
Fabric, Thread, Sewing Machines & Buttons
---
Textile Traditions
📍 87 Mill St, Almonte, ON K0A 1A0
Fabric, Yarn Quilting and Sewing Supplies

Indulge in a Pleasurable Dining Finale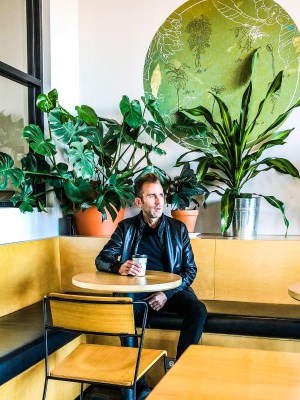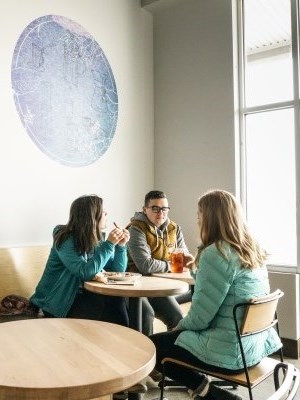 Indulge in a Delectable Dinner
Wrap up your day trip in Almonte with a delightful dinner at one of our two recommended restaurants, offering a taste of the town's culinary excellence. But don't stop here – Almonte boasts a plethora of dining options waiting for you to discover, promising a satisfying end to your memorable journey.
---
🍴 The Barley Mow
📍 79 Little Bridge St, Almonte, ON K0A 1A0

Established in 2009 on the Mississippi River, the original foundry building was restored to show off the original exposed stone and wood beams. Come enjoy the beautiful patio overlooking the waterfalls.

Traditional pub fare, 14 draft beers on tap.
---
🍴 The Sterling
📍 28 Mill St, Almonte, ON K0A 1A0

The Sterling is a small casual fine dining restaurant located in a beautiful heritage building on Mill Street. They offer seasonally changing menus sourced from local vendors, curated cocktails designed in-house and small craft beers and wine from independent vineyards.
Special Option for Christmas
🌲 Cedar Hill Christmas Tree Farm
📍 951 8th Concession South, Pakenham, ON K0A 2X0


Create cherished memories as you and your loved ones embark on the delightful tradition of selecting and cutting your very own Christmas tree.

And here's an extra special touch – Cedar Hill has also played a starring role in four heartwarming Hallmark Christmas movies, including A Christmas Scavenger Hunt, A Cheerful Christmas, Christmas Festival Of Ice, and The Rooftop Christmas Tree. Come experience the enchantment of the movies and take home the perfect tree to make your holiday season truly memorable.
Embrace Almonte and Beyond
Stay in Almonte
Indulge in a truly immersive Almonte experience by extending your stay in this charming town. With a variety of accommodation options to choose from, including cozy cottages, comfortable hotels, and welcoming bed and breakfasts, you'll find the perfect retreat to suit your preferences.
---
Extend Your Adventure: Explore Ramsey and Pakenham
As you bid farewell to the charming town of Almonte, your adventure in the captivating Mississippi Mills region is far from over.
Ramsey: A Heritage Haven
Unveil the hidden treasures of Mississippi Mills beyond Almonte's borders. Begin your journey in Ramsey, a town steeped in history and adorned with exquisite heritage buildings. Delve into the past as you navigate its charming streets, each corner revealing stories of a bygone era. Embark on a captivating one-day driving tour, where architectural gems stand as witnesses to the town's rich heritage. Ramsey beckons you to immerse yourself in its nostalgic charm and explore the intricate tapestry of its past.
Pakenham: Artistry and Natural Wonders
Continue your voyage to Pakenham, a town where creativity intertwines with nature's splendor. Experience the allure of local art studios, where the vibrant Maple Run Tour captivates the senses. Marvel at the engineering marvel that is the Five Span Bridge, one of the esteemed Seven Wonders. Here, the convergence of artistry and natural beauty unfolds, offering you a glimpse into the heart of Pakenham's essence. Embark on a journey that takes you from artistic expressions to awe-inspiring landscapes, as you embrace the distinctive charm of Pakenham in the Mississippi Mills region.

Essential Tips for Crafting Your Journey