Welcome
---
Welcome to Lanark County, where the charm of rural living and the breathtaking beauty of nature unite to create an unforgettable experience. Step into a world where rolling hills, tranquil lakes, and picturesque landscapes paint the backdrop for your perfect getaway.
Explore the unspoiled beauty of Lanark County and immerse yourself in the tranquility of its rural lifestyle. Discover charming villages and towns nestled amidst lush greenery, where time seems to slow down, allowing you to reconnect with nature and yourself. Whether you're seeking a peaceful retreat or an adventurous escape, Lanark County has something for everyone.
Embark on a journey through our pristine countryside, where outdoor enthusiasts are spoiled for choice. Lace up your hiking boots and traverse scenic trails that wind through towering forests, offering glimpses of wildlife and panoramic views at every turn. Cast your line into crystal-clear lakes and rivers, and indulge in the thrill of fishing for prized catches. Canoe or kayak along gentle waterways, or dive into the cool waters for a refreshing swim.
For those seeking a slower pace, explore the idyllic countryside by bicycle or horseback. Meander along winding country roads, passing by charming farms and fields bursting with vibrant colors. Uncover hidden treasures in roadside antique shops, local artisans' studios, and quaint boutiques, where unique souvenirs and handcrafted treasures await.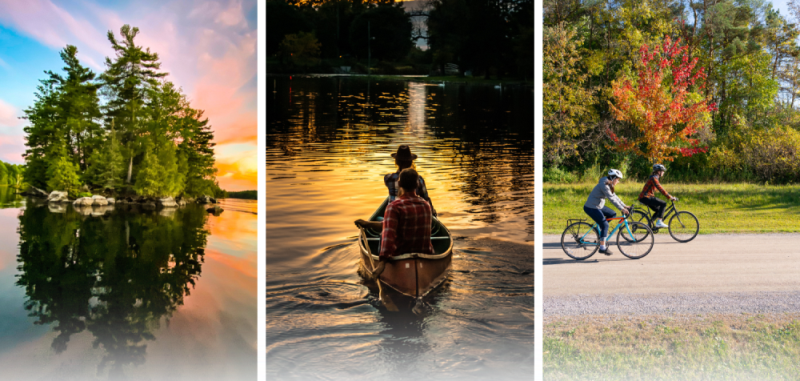 Lanark County is also a haven for history buffs. Step back in time as you visit heritage sites, museums, and historic landmarks that showcase our rich cultural heritage. Discover the stories of the region's pioneers and marvel at the preserved architecture that whispers tales of the past.
As the day draws to a close, immerse yourself in the warmth of our community. Savor farm-to-table cuisine at charming restaurants, where fresh local ingredients are transformed into mouthwatering dishes that celebrate the bounty of the land. Experience our vibrant arts scene through live performances, galleries, and festivals that showcase the talents of local artists and musicians.
Whether you're a nature lover, history enthusiast, or simply seeking respite from the hustle and bustle of everyday life, Lanark County invites you to unwind, explore, and connect with the essence of rural living. Come and experience the harmony between the land and its people, and create memories that will last a lifetime.
Plan your visit to Lanark County today and let the natural beauty and rural lifestyle captivate your senses. Explore our website for a wealth of information, including accommodations, attractions, events, and more. Start your journey now and discover the hidden gems of Lanark County.
---