Skiing & Snowshoeing
When the air turns frosty and a thick blanket of snow covers the forest floor, cross country skiers and snowshoers rejoice, heading out onto quiet, snow-covered trails to make tracks. Here in Lanark County, winter is one of our favourite times of the year, and skiing and snowshoeing season is reason to celebrate.
So if the view outside your window is filled with white, grab your skis or snowshoes and head out to explore some of our favourite trails from a wintry perspective. To rent snowshoes, visit
Wheelers Maple Sugar Camp
(for use on site) or the
Carleton Place Information Centre
at 170 Bridge St, Carleton Place.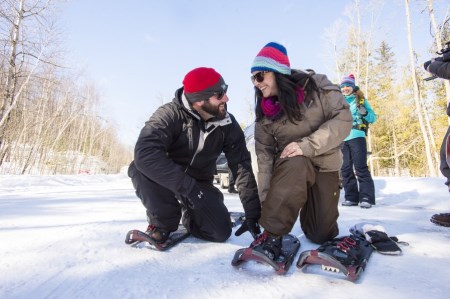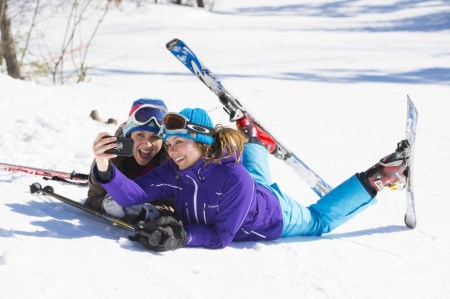 Trails for Skiing and Snowshoeing
🎿 Timber Run Ski Trail - Lanark Highlands
Check out the winter beauty of this golf course off County Road 511 (54 Caldwell Rd.) just south of Lanark Village. A series of cross-country ski trails meander through the property and some snowmobile trails pass through as well. Parking and washrooms are available.
---
🎿 Wheelers Pancake House & Sugar Camp - Lanark Highlands
Wheelers Pancake House and Sugar Camp mixes two of the most Canadian things: maple syrup and winter activities. Enjoy skiing and snowshoeing on seven trails which range from 1-kilometre to 8-kilometres long, looping through the maple filled forest that produce Wheelers delicious maple syrup. Before leaving, head to into the shop for some maple products to cheers to the end of a truly Canadian day.
Getting There: Park right at the pancake house to access the trail loops that are located adjacent to the sugarcamp. Trails are well signed for easy access.
---
🎿 Mill of Kintail - Mississippi Mills
Visit Mill of Kintail, one of the seven wonders of Lanark County, for more scenic, woodland ski and snowshoe trails. The Mill of Kintail has a network of forested trails that span 6.5-kiloemtres and can be explored year-round from dawn to dusk, seven days a week. The trails are on mostly level land that makes moderate cross-country skiing conditions.
Getting There: Park in the parking area located just inside the main gates at the Mill. Trails can be accessed from the parking area or continue down the laneway which runs to the on-site museum to access additional trails.
---
🎿 Mount Pakenham - Mississippi Mills
Home to Dr. James Naismith, the inventor of basketball, Mississippi Mills is also home to several fantastic ski and snowshoe trails. Head to Mount Pakenham to enjoy 10-kilometres of scenic cross-country ski and snowshoe trails, where you will feel the stress of the day or week melt away.

Mount Pakenham has four trails for you to explore: The Winter Outdoor Wonder (WOW) trail, (5-kilometres); the Blue trail (2-kilometres); the Green trail (5.5-kilometres); and the Yellow trail (2-kilometres). Snowshoers are asked to stay to the side of the trail as not to impact the cross-country skiing trail conditions.
Getting There: Mount Pakenham is located only a few kilometres southwest of the village of Pakenham. Trails can be accessed directly from the main parking area at the ski hill, to the right of the lodge.
---
🎿 Perth Wildlife Reserve - Perth
Bring your sense of adventure to the Perth Wildlife Reserve to enjoy a 2.5-kilometre loop through the woodland area with several wildlife species – so keep your eyes peeled! Get ready for some adventure as the trail is not maintained, leaving you to blaze your own trail through the pristine snow.
Getting There: You can access the trail from the trailhead only short drive from the town of Perth, on Wildlife Road.
---
🎿 Murphys Point Provincial Park - Tay Valley
For more extensive cross-country skiing and snowshoeing trails, head to Murphys Point Provincial Park in Tay Valley. The cross-country ski trail network includes 14-kilometres of trail track for classic skiing, 4-kilometres for skate skiing and 8-kilometres for backcountry skiing. Suggested snowshoe routes are along non-groomed hiking trails, hike visitor favourites the Beaver Trail (1-kilometre), and the Silver Queen Mine Trail (2-kilometres).
Getting There: You can enter these trails either at the primary trailhead, located just before the main entrance at the winter parking lot, or at the second trail head, further along Country Road 21 at the Lally Homestead.
Interactive Google Map
Snowmobiling
Lanark County and its surrounding areas offer a winter wonderland for snowmobiling enthusiasts, with a vast network of trails spanning hundreds of kilometers. As part of the Beautiful Eastern Association of Snowmobile Trails and the Kingston and Pembroke Snow Trails Association, local snowmobile clubs maintain over 850 kilometers of groomed paths within Lanark County alone. It's important to note that permits are required for snowmobiling in Lanark County, which falls under District 1 of the Ontario Federation of Snowmobile Clubs.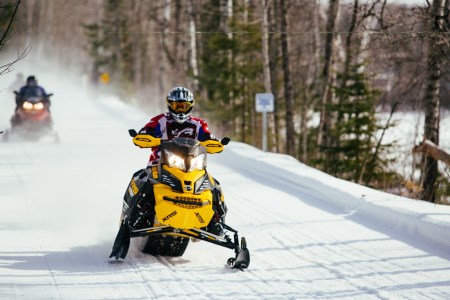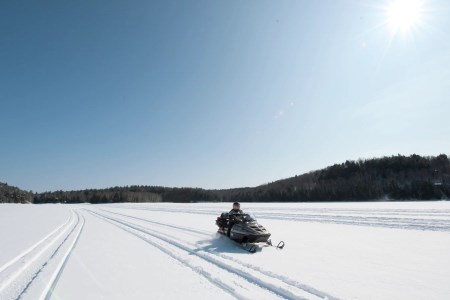 Trail Routes & Guide
Go Snowmobiling Ontario
Go Snowmobiling Ontario offers a wealth of valuable information and resources for snowmobilers. Their website features a convenient snowmobile trail reference tool that provides real-time trail status updates, along with essential points of interest such as fuel stations and amenities. Additionally, they offer a user-friendly mobile app to enhance the snowmobiling experience and ensure riders have everything they need for a safe and enjoyable adventure.
---
Upper Canada Snowmobile Region
Experience the best of rural life and snow-filled delights with the "Here's to The Rural Life" and "Trails of Pure Pleasure" trail, two relatively short and manageable rides that take you through picturesque landscapes passing by Smiths Falls.
---
Upper Canada Snowmobile Region
Embark on an unforgettable adventure through the scenic trails loops of "Rails & Trails Ontario East Loop", "Upper Canada Circuit", "Ottawa Valley River", and "Rideau - St. Lawrence" Trail Loops. Discover the beauty of Lanark County's diverse region, capturing favorite pieces of this enchanting area that encompasses Smiths Falls, Carleton Place, Almonte, Pakenham, Perth, and White Lake.
Trail Maps
Ontario Federation of All Terrain Vehicule Clubs Recreational Trail Guide
Snowmobile Rentals and Sales
Discover Black's Corners Motorsport, your go-to destination for snowmobile sales and service. With a wide range of snowmobiles available for purchase, as well as a dedicated service department, they provide comprehensive support to meet your snowmobiling needs.
---
At Carleton Place Marine, visitors can discover a premier destination for snowmobile sales, complemented by excellent service and support provided by licensed technicians.
---
Outdoor Adventure Rentals is your ultimate source for snowmobile rentals, allowing you to embark on thrilling winter adventures. With a diverse selection of well-maintained snowmobiles available for rent, you can explore the snowy landscapes with ease and excitement.
---
Perth Powersports and Marine is your premier destination for snowmobile sales and a wide range of services to keep your snowmobile running smoothly. From top-of-the-line snowmobiles for purchase to expert services like battery replacement, pressure washing, state inspection, and more, their dedicated team ensures that your snowmobiling experience is hassle-free and enjoyable.
Useful Information
For a wealth of useful information about snowmobiling, look no further than your local snowmobile club. Discover everything you need to know, from obtaining permits and accessing trail information to staying informed about events and prioritizing safety while enjoying the exhilarating world of snowmobiling.
Ontario Federation of Snowmobile Clubs Ottawa Valley ATV Club
Tay Valley Cross Country Ski Club Trans Ontario Provincial (TOP) Trails
---
Public Skating & Outdoor Rinks
Whether it's at the local arena or outdoors, skating is a popular winter activity in Lanark County. Dust off those skates and check out the following venues.