Savoring Local Flavors:
Lanark County, The Maple Syrup Capital of Ontario
---
Indulge your taste buds in the flavors of Lanark County, the Maple Capital of Ontario. Walk through the syrup-making experience from start to delicious finish with a visit to a maple sugar bush or experience Maple Fest, where vendors from across the county gather to share their maple creations.
Maple is just the beginning in Lanark County, where farm-to-table cuisine, vibrant farmer's markets, and a thriving craft beverage scene await. Prepare to embark on a culinary adventure like no other, where local ingredients are celebrated and the passion for exceptional food and drink is all around you.
Lanark County's farm-to-table movement is a feast for the senses. Immerse yourself in a journey that begins at our picturesque farms, where farmers cultivate the land with care and dedication. From fields of fresh vegetables to pasture-raised livestock, our local producers deliver the highest quality ingredients straight to the tables of our talented chefs.
For an authentic farm-to-table experience, visit our lively farmer's markets. Stroll through the vibrant stalls bursting with an abundance of seasonal produce, artisanal cheeses, freshly baked goods, and more. Engage with the friendly farmers and producers, and learn the stories behind the food you purchase. Taste the difference in every bite and take a piece of Lanark County's culinary heritage home with you.
Immerse yourself in the culture of our breweries and distilleries, where you can witness the craftsmanship firsthand. Take a behind-the-scenes tour, learning about the intricate processes that go into creating these unique beverages. Engage with the experts, and gain a deeper appreciation for the dedication and passion that goes into each bottle.
Lanark County invites you to raise a glass, savor the flavors, and celebrate the artistry of our culinary and beverage scene. Whether you're exploring our charming restaurants, perusing the farmer's markets, or discovering the craft beverage establishments, you'll find a symphony of tastes that embody the essence of our region.
---
Featured Experiences
---
Eat Local : Top Picks for Dining
Indulge in the delectable flavors of Lanark County with our top picks for dining! From charming eateries serving farm-to-table delights to hidden gems offering international cuisines, this culinary adventure will satisfy every palate and leave you with a taste of the region's vibrant food scene.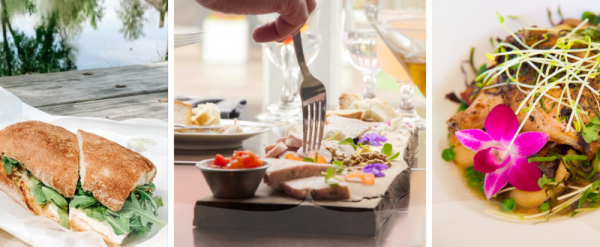 Carleton Place
🍴 Black Tartan Kitchen: Canadian, Scandinavian, Vegetarian Friendly (📍 132 Bridge St)
🍴 Boulton House: Patio, Italian (📍 35 Mill St)
🍴 FRESKA Café : gluten-free options are available, great breakfasts and coffee (📍 151 Bridge St)
🍴 Smith & Barrel: Patio, Pub (📍 7 Bridge St)
🍴 Taste Blooms: Bakeries, Coffee & Tea, Breakfast & Brunch (📍 5 Allan St)
🍴 The General Store: Gelato, Bakeries, Desserts (📍 142 Bridge St)
🍴 The Good Food Company: Organic and Natural Food Cafe (📍 31 Bridge St)
🍴 The Waterfront Gastropub: Patio, Pub (📍 12 Bell St)
🍴 Thurway Restaurant : Traditional and Huge Portion Breakfasts (📍 10432 Hwy 7)
🍴 Zak's Diner: Old Fashioned and homemade flavours breakfasts (📍 515 McNeely Ave)
Drummond North Elmsley
🍴 CC's on the Rideau: American, Canadian, Gluten Free Options (📍 1030 Rideau Ferry Rd)
🍴 Jimmy's Snack Shack: Take-out, Canadian, Vegetarian Options (📍 1040 Rideau Ferry Rd)
Lanark Highlands
🍴 Fluid Solar Roasted Coffee: Coffee and beverage (📍 202 Floating Bridge Rd)
🍴 Wheelers Maple Products: Pancake House (📍1001 Highland Line)
Mississippi Mills
Perth
🍴 Billings & Company: Sandwiches, share plates & tapas, baked goods (📍 43 Gore Street East)
🍴 Coutts & Company: Fair-trade organic coffees, baked goods (📍 57 Gore Street East)
🍴 Fieldhouse: Seasonal baker's lunches, Pastries, Croissants (📍 43 Herriott Street)
🍴 Mex & Co.: California-style Mexican food, Quesadillas, Tacos (📍 55 Gore Street East)
🍴 Michael's Table: North American classics, Burger, Pasta (📍 110 Gore Street East)
🍴 North Folk Café: Canadian cafe, kombucha, Vegan & GF options (📍 1 Gore Street W)
🍴 Perth Restaurant & Tavern: Pancakes, Breakfast Sandwiches, Crepes (📍 23 Gore Street East)
🍴 Rocky River Cafe: Canadian, Casual dining, Patio (📍 8 Wilson Street East)
🍴 Stone Cellar Restaurant: American, Contemporary, Canadian (📍 71 Gore Street East)
🍴 The Locks at Perth: Steaks, Seafood and Wine, Upscale Dining (📍 82 Peter Street)
Smiths Falls
🍴 Aarusuvai: World Cuisine, Bar, Grill (📍 23 Russell St E)
🍴 Boomtown: Asian Fusion, Pizza, Burger (📍 27 Beckwith St N)
🍴 Bowie's: Bar, Live Music, Craft Beer (📍 20 Russell St E)
🍴 DiLuCa Fine Foods: Italian, Pasta, Pastries (📍 18 Russell St E)
🍴 Matty O'Sheas: Pub Food, Pool (📍 12 Chamber St)
🍴 My Place Restaurant: European, Hungarian, Family restaurant (📍 2 Main St W)
🍴 Rob Roy's Pub & Restaurant: Bar, Canadian, Pub Food (📍 33 Centre St)
🍴 Shawarma On The Falls: Middle Eastern, Platter, Sandwich (📍 16 Beckwith St N)
🍴 Sip Bistro and Mercantile: Pasta, Pizza, Patio (📍 7 Russell St W)
🍴 The Lockmaster's Taphouse and Patio: Fresh Pub Food, Salad, Kids Menu (📍 32 Beckwith St S)
🍴 The Vault Eatery & Pub: Sandwich, Share Plate, Soup (📍 2 Russell St E)