Cycling Routes

Prepare for an adventure amidst the breathtaking landscapes and challenging trails of Lanark County, as biking enthusiasts dive into an immersive world of excitement and natural beauty.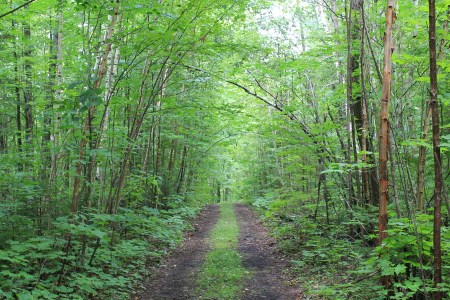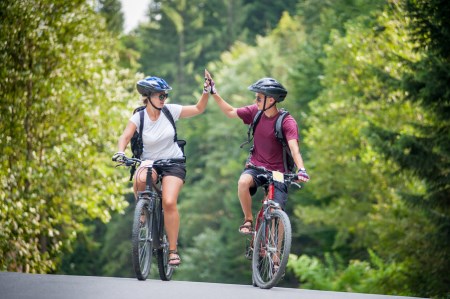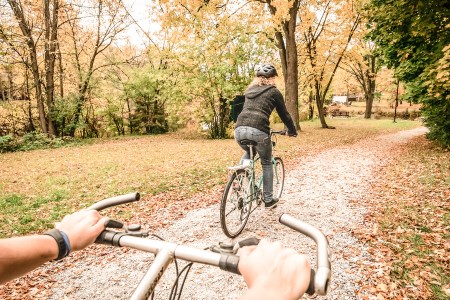 Carleton Place
🚴 Carleton Place Route Two (approx 7.5 kms)
View Carleton Place Cycling Route One
This ride begins at the Information Centre, Gallery and Gift Shop. Stop in and enjoy the Artwork of local artisans before beginning this family friendly tour. This route takes you along the Mississippi Riverwalk, and past the historic town hall, past Riverside Park and the Canoe Club. The Riverwalk trail is narrow and heavily treed. Go slow and enjoy the fantastic scenery or get off your bike and walk along this section. Be careful when crossing Bridge St and use the pedestrian crosswalk.

Take the bike paths along Coleman to Hooper St. Turn left onto Hopper and follow to Lake Ave E. Cross Lake Ave E onto Crampton. Turn right at Stonewater Bay to arrive at the Riverwalk Trail. Walk or bike the trail to its end at Princess St. Turn right onto Princess to Mill St. Follow Mill St past the town hall. Cross at Pedestrian Cross walk and turn left on Bridge St one block to Allan St. Turn right onto Allan St the left onto Victoria. Follow Victoria to John St. – turn right. Follow John to Riverside Park to travel on bike paths in the park, just past the Canoe Club, take bike paths to boat launch then turn onto Lake Ave West. To Mississippi Rd. Take Mississippi Rd to Woodward – turn left onto woodward turn right on Boyd then left on Arthur. Follow Arthur and it turns into Coleman. Return to Info Centre.
---
🚴 Carleton Place Route Four (approx 15 kms)
View Carleton Place Cycling Route Two

This is one you'll want to take slowing and even stop at times along the way. There is some traffic so ride single file! This is paved but parts of River Road can be bumpy. There is a hill on River Road so hands on brakes here. This is a very scenic route. If time allows stop for a rest near the falls in Appleton.

Park at Trans Canada Trail Head just off Cavanagh Rd past McNeely Ave. Take the Trans Canada Trail east to Appleton Side Road. Go left on Appleton Side Rd and follow to River Rd. Follow the loop on River Road and loop back to Appleton Side Rd.
Lanark Highlands
🚴 Lanark to McDonalds Corners
View the Lanark to McDonald's Corners Cycling Route
This longer route along County Roads 12 and 8 offers some challenging hills and scenic viewscapes as it passes by conservation areas, natural gems and lovely bed and breakfasts and retreats (where you might want to rest when you are done!). Most of the 39.8-km route is paved, but there is some gravel. Park at the Lanark Highlands Municipal Office at 75 George Street in Lanark Village. Washrooms are available when the office is open.
---
🚴 Lanark to Ferguson Falls
View Lanark to Ferguson Falls Cycling Route
This 24-km intermediate route along paved roads and through rolling landscapes showcases some fun stops along the way – including a gorgeous golf course, a woolen shop, a campground on the Mississippi and a sugar bush operation near the hamlet of Ferguson Falls. Park at the Lanark Highlands Municipal Office at 75 George Street in Lanark Village. Washrooms are available when the office is open.
Lanark Highlands - Drummond/North Elmsley
🚴 Lanark to Fallbrook
View Lanark to Fallbrook Cycling Route
This 24.8-km intermediate route starts from the Lanark Highlands Municipal Office at 75 George Street in Lanark Village and follows paved roads through rolling hills and beautiful countryside, past golf courses, historic churches and through charming hamlets. Park at the municipal office. Washrooms are available when the building is open.
Mississippi Mills
🚴 Naismith Loop
View the Naismith Loop Cycling Route
Start from the Mill of Kintail Conservation Area (where you can park) and take in some area history at the museum before setting out on this 22-km ride through picturesque farmland and forests on the way to Clayton. There is a mix of gravel and paved roads on this route. When you return to the museum, you'll find a picnic area, washrooms, nature trails along the Indian River and a play structure for kids
---
🚴 Verna's Text Book Tour
View Verna's Text Book Tour Cycling Route
This 42-km route on paved and hard-packed gravel is named for naturalist, historian and geologist Verna McGiffin and takes you on a ride into history. The route starts at Pakenham's Five Arch Stone Bridge (where you can park) and features prehistoric shorelines and beautiful vistas. Rugged rocks and trees mingle with charming heritage architecture to tell the story of this settled land. Check out Verna's books in the Pakenham library.
Mississippi Mills-Carleton Place
🚴 Reva's Museum Tour
View Reva's Museum Tour Cycling Route
This 41-km journey along mostly paved roads and some hard-packed gravel features stops at four local museums. Start anywhere along the route and take in the Mill of Kintail's R. Tait McKenzie Museum and the Dr. James Naismith Collection, the Mississippi Valley Textile Museum in Almonte and the North Lanark Historical Museum in Appleton. Enjoy the beautiful Mississippi along the way. Parking at the museum
Perth
🚴 Glen Tay Loop
This 15-km short, flat route along paved roadways is an excellent beginner route that takes cyclists along the upper Tay River past heritage farmlands and through the scenic village of Glen Tay. Start from the Crystal Palace/Tay Basin in Perth, where you will find ample parking and washrooms.
---
🚴 Perth to Murphys Point
View Perth to Murphys Point Cycling Route
Challenge yourself with this 41.3-km route that takes you through the hilly terrain marking Canadian Shield country from Perth to Murphys Point Provincial Park. Start from the Crystal Palace/Tay Basin in Perth, where there is parking and washrooms. Take a break or hike through the park. Buy some fresh local produce from farm stands on your way back to town.
---
🚴 Harper to Balderson
View Harper to Balderson Cycling Route
This lovely beginner route takes you along 26 km of flat paved roadway featuring beautiful farmland and some must-stops. Enjoy the delectable treats at Balderson and the scrumptious baked goods and cute mini critters in Glen Tay. Start from the Crystal Palace/Tay Basin in Perth, where there is parking and washrooms.
---
🚴 Town of Perth Tour
View Town of Perth Cycling/Walking Route
Roll past some of Perth's compelling sites on this easy, short route (that could be walked). Start at the Big Ben monument in Code Park, opposite Fiddleheads, and meander through the downtown streets to learn a little about the town's history and lots about the great shops, restaurants and facilities on offer. Park behind Fiddleheads. Washrooms are available in Code's Mill atrium.
Perth - Lanark Highlands
🚴 Maberly to Mcdonalds Corners Route
View Maberly to McDonalds Corners Cycling Route
For a challenging route over the hills and dales of west Lanark County, try this 92.8-km journey along paved roadways. Pause as you pass through the charming villages of Maberly, Glen Tay and Bolingbroke. The route begins and ends from the Crystal Palace/Tay Basin in Perth, where you'll find parking and washrooms.
Perth - Westport
🚴 Perth to Westport
View Perth to Westport Cycling Route
Challenge yourself to this 87-km journey from Perth to Westport and back. This route follows paved roadway through farmland and Canadian Shield country and past gorgeous lakes. Take a rest at scenic Narrows Lock on the UNESCO World Heritage Site, the Rideau Canal. Enjoy shopping and restaurants at some of the hamlets along the way and in Westport and Perth. The route begins and ends at the Crystal Palace/Tay Basin in Perth, where you'll find parking and washrooms.

Cycling Resources

Lanark County is a cyclist's paradise with its variety of routes suitable to many different skill levels. The Canadian Shield lands provide great training hills, while the flatter farmlands allow for speed – or a rest. All of this is nestled into some of the most gorgeous scenery anywhere – a mix of rocks, forests, wetlands, meadows, lakes and rivers. There are plenty of towns, villages, hamlets, parks and conservation areas to explore along the way. Come, visit and enjoy the perfect journey!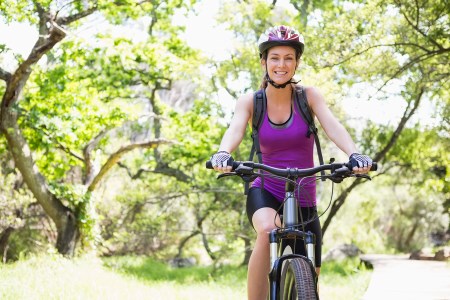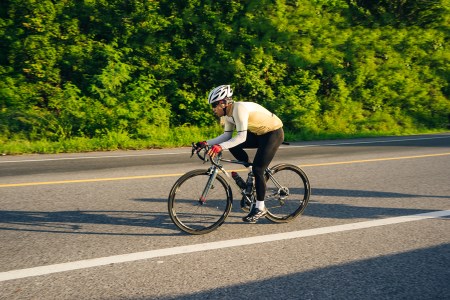 Cycling Routes
Your ultimate guide to the Voyageur Cycling route, which takes you on an unforgettable journey from Ottawa to Sudbury, passing through picturesque towns such as Carleton Place, Almonte, and Pakenham.
---
To Cycle from Ottawa to Carleton Place, route information is available at this website.
---
Valuable resources for cyclists to search for cycling routes and trails. This website also provides a curated list of certified bicycle-friendly establishments for dining, visiting, and accommodation in Lanark County.
---
A GPS-mapped route for "gravel bikes" in Lanark Highlands
Cycling Maps
Appleton Cycle Route Lanark County Cycling Map Mississippi Mills Cycling Map Mississippi Ottawa Rivers Cycle Loop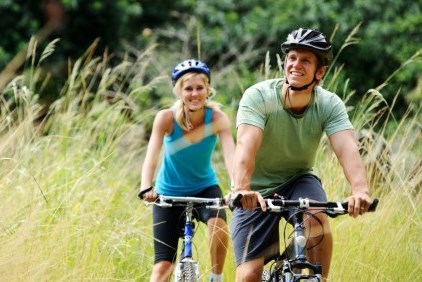 Almonte Bicycle Works
Mississippi Mills
This store is your go-to destination for all things biking, offering a comprehensive range of services including sales of new and previously-loved bikes, a wide selection of bike parts and accessories, and expert repairs and restoration.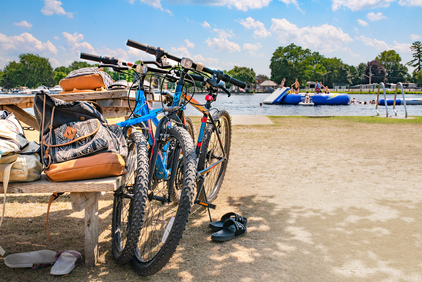 Dave the Bike Mechanic
Smiths Falls
Dave, the skilled bike mechanic, is a trusted expert when it comes to bicycle repair services. He also builds and sells bikes, crafting unique and personalized rides for cycling enthusiasts to enjoy the ultimate biking experience.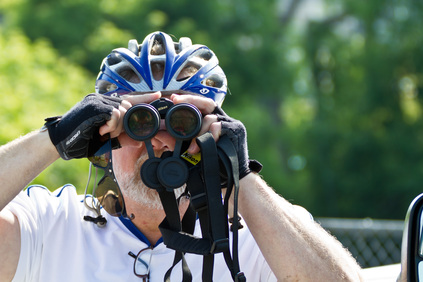 Heritage Bikes
Perth
Heritage Bikes offers bikers high-quality bike repair services, along with a wide selection of cycling accessories. They also provide a diverse range of bikes to choose from, including fitness bikes and mountain bikes, helping customers find their perfect ride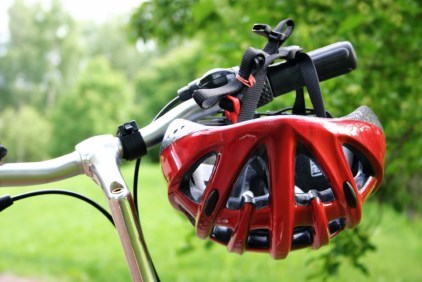 Joe Mamma Cycles
Carleton Place
Joe Mamma Cycles is dedicated to providing biking enthusiasts with a complete range of services, including exceptional repair services and a wide selection of bikes for sale.