Local Flavours and Farm Experience
In the scenic landscapes of Lanark County, the picturesque fields and rolling hills create an ideal environment for small farms to thrive. As you meander along quiet country lanes, you'll stumble upon hidden gems – charming farm stands nestled amidst the countryside. These farm stands offer a delightful opportunity to explore and check items off your grocery list while immersing yourself in the local agricultural scene.
Throughout the seasons, farms host a plethora of exciting and festive events, adding an extra touch of magic to your visit. From berry-picking extravaganzas in the summer to pumpkin festivals in the fall, there's always something delightful happening on the farms. Immerse yourself in the joyous atmosphere of seasonal celebrations, where you can partake in fun activities, savor local culinary delights, and create cherished memories.
---
Seasonal Events
Animal Encounters
Book a farm visit and Come meet the alpaca family in Rosetta Hills. You will have many opportunities to interact with other animals, including baby goats!
---
Serendipity's Store carries a variety of alpaca and llama merchandise produced locally and in other parts of Canada – all with fibre from Canadian animals. They also carry work of local artisans and farmers, as well as an assortment of alpaca and llama goods imported from South America. There are opportunities for an up-close encounter and perhaps some hand feeding with animals there.
---
Tay Valley Farm provides horse riding experience for visitors. They also offer coaching and training for all levels of riders.
---
At Willow Creek, they are dedicated to providing Newfoundland Ponies, and on occasion other horses, with a safe and nurturing environment. A great educational experience for the whole family. Come out and learn why they are critically endangered, and what is being done to protect them, and why they are so special!
Flower Fields & Christmas Trees
🎄 Cedar Hill Christmas Tree Farm - Mississippi Mills
📍 951 8th Concession South, Pakenham, ON K0A 2X0
Cut your own Christmas Tree! In December, horse drawn wagon rides are offered Saturdays and Sundays across our 90' covered bridge. Fresh evergreen wreaths, gift baskets, gift certificates, and homemade jam make excellent gifts. Ice slides, toboggan hills, bonfires, hot drinks, and a woodstove in our new building all make for a traditional fun filled Christmas experience.
---
🌻 Rosehill Ranch - Mississippi Mills
📍 2792 Concession Rd 4, White Lake, ON K0A 3L0
Visit their amazing sunflowers field and pick your own sunflowers.
---
🌻 Ferrier's Scotch Line Farm - Perth
📍 2579 Scotch Line, Perth, ON K7H 3C5
Wander through beautiful sunflowers with your family and friends.
---
🎄 Campbell's Tree Farm - Smiths Falls
📍 5808 Roger Stevens Dr, Smiths Falls, ON K7A 4S6
Have the smell of the woods and look of Christmas on your door! Come cut your own or pick up a freshly cut Christmas tree.
---
🌻 Sylvia's 4th Line Florals - Tay Valley
📍 2172 Upper Fourth Concession Bathurst, Perth, ON K7H 3C9
Sylvia's 4th Line Florals is a flower farm and florist that grows annual cut flowers, perennial cut flowers, and woody plants for cutting on over 2 acres of cultivated land.
Pick Your Own
Pick your own fruit, vegetables and flowers at our local Farms. Fresh, local produce, right at your fingertips.
---
🍓 Beckwith Berries - Carleton Place
📍 9961 Cavanagh Rd, Carleton Place, ON K7C 0C4
Visit Beckwith Berries during berry season! Come pick your own berries or shop from our fresh selection!
---
🍓 Mississippi Berries - Lanark Highlands
📍 2430 Ferguson Falls Rd, Lanark, ON K0G 1K0
Mississippi Berries is a family run farming operation that focuses on sustainable production practices to produce high quality agricultural products and food for the local market place.
---
🎃 Rosehill Ranch - Mississippi Mills
📍 2792 Concession Rd 4, White Lake, ON K0A 3L0
Maple Syrup Producer in the spring and host Pick-Your-Own pumpkin farm experience in the fall.
---
🎃 Ferrier's Scotch Line Farm - Perth
📍 2579 Scotch Line, Perth, ON K7H 3C5
Scotch Line Farm is family owned and operated and is located in the heart of Lanark County just outside of Perth. In the fall, be sure to stop by to pick out your pumpkins for carving, decorations and baking! They have many types of squash, along with square straw bales and gourds to complete your fall décor! Ground beef and sausages are available for purchase as well as pumpkin pie!
---
🎃 Miller's Bay Farm - Smiths Falls
📍 65 Rideau Ferry Rd, Lombardy, ON K0G 1L0
Take a look around and find out all about the fresh flavours you'll find in Miller's Bay Farm. Pick your own strawberries, pumpkins and fresh vegetables with your family and friends.
---
🍒 Balderson Blueberries - Tay Valley
📍 211 Keays Rd, Balderson, ON K0G 1A0
U-pick blueberry farm located 10 minutes outside of Perth. Relax and enjoy some tasty baked goods or pick up a handmade gift at the on-site Merry Blueberry Store and Café.
Plan Your Trip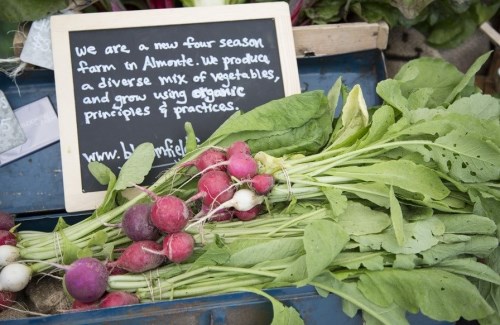 Farmgate Sales
Our local farms harvest a wide range of products throughout the seasons. Enjoy our nutritious and Fresh produce, which are perfect ingredients for creating your own dishes.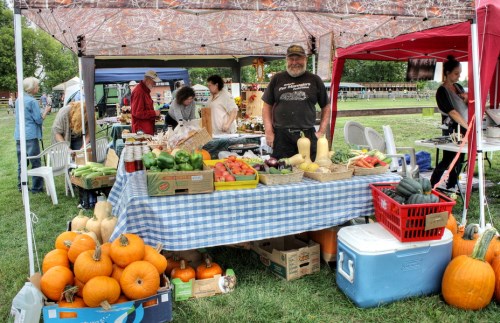 Farmers' Markets
Experience the bountiful flavors and vibrant community spirit at our farmers market, where you can find various fresh and seasonal ingredients.