Get Hands-On with History
---
Museums
Embark on a captivating journey as you explore our extensive and diverse selection of museums, each offering a unique window into art, history, science, and culture.
---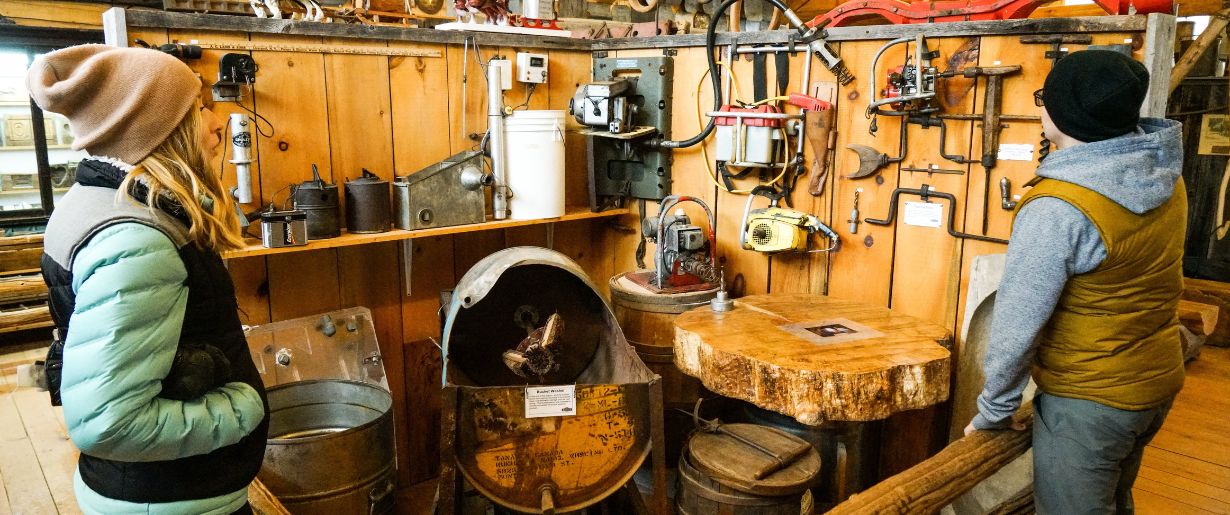 Carleton Place and Beckwith Heritage Museum
📍 267 Edmund Street, Carleton Place ON
Explore the history of the town of Carleton Place and Beckwith Township through exhibits, walking tours and events.
Heritage House Museum
📍 11 Old Slys Road, Smiths Falls ON
The Smiths Falls Heritage House Museum was built in 1860 - 1861 for Joshua Bates and his family, who were relocating from the nearby town of Athens (formally known as Farmersville). The museum's first floor features restored Victorian period rooms, furnished with artifacts that have been purchased, donated or loaned to the museum. The second level of the museum features changing exhibit rooms and galleries. These spaces are used to highlight the cultural history of Smiths Falls and display art from local artists.
Lanark & District Museum
📍 80 George Street, Lanark ON - CURRENTLY CLOSED FOR RENOVATION
Lanark and District Museum features the on-going history of the Lanark Highlands, and former Drummond & Bathurst Townships in Lanark County. This unique museum houses artifacts and changing exhibits from the area's earliest history to the present.
Lanark Highlands Basketry Museum
📍 5596 McDonald's Corners Road, Lanark Highlands ON
Discover how local materials are used to make practical necessities and how many different types of basketry there are. Explore the collection of over 200 handmade baskets and even learn to make one yourself.
Middleville & District Museum
📍 2130 Concession 6D, Middleville ON
The Middleville and District Museum houses a collection of several thousand artifacts depicting the building of a community from early days of settlement through to the Second World War. Your visit begins with local Indigenous artifacts and continues with an actual log cabin. You will see a significant textile display, a farming exhibit and a glimpse of the early domestic life. A dramatic 1911 horse drawn hearse, a 1918 Chev Truck and a 1921 Ford Car are big hits. Early blacksmith and carpenter tools from local collectors are also popular. The old school house, offering books with many signatures of local youngsters, brings back memories of days gone by. Be sure to visit the website to discover incredible seasonal events and workshops.
Mill of Kintail
📍 2854 Ramsay Concession 8, Almonte ON
The Mill of Kintail (one of the Seven Wonders of Lanark County) is home to the R. Tait McKenzie Museum and the James Naismith Museum.
Mississippi Valley Textile Museum
📍 3 Rosamund Street, Almonte ON
Exhibitions range from early mill history and period mill equipment to cottage industry and eclectic modern fibre art exhibitions. This community museum combines traditional static and working displays of textile equipment and processes with activities and events focusing on the region's heritage, culture and role of the textile industry in Canada. Guided tours available.
North Lanark Regional Museum
The North Lanark Regional Museum tells the stories of the North Lanark Region through the collection, preservation, and presentation of artefacts, culture, and local history. Experience their unique heritage of Lanark County through inspiring museum programs, special events, and a readily accessible local history and genealogical collection.
Perth Museum
📍 11 Gore Street East, Perth ON
The stone dwelling was built in 1840 for the Honourable Roderick Matheson, wealthy merchant and a senator in Canada's first parliament after Confederation. The four period rooms - parlour, dining room, drawing room and a warm and welcoming kitchen - have been carefully restored and furnished to reflect the lifestyle of the Matheson family who owned the house for 90 years.
Railway Museum of Eastern Ontario
📍 90 William Street West, Smiths Falls ON
Ride the rails to the past and experience history for yourself at the Railway Museum of Eastern Ontario. An incredible collection of documents and artifacts is just the beginning. Enjoy handcar rides, have tea in a dining car, or even spend the night in a vintage caboose to truly immerse yourself in railway history.