Unwind in Nature:
Beautiful Picnic Spots in Lanark County
Lanark County is a nature lover's paradise, with its rolling hills, picturesque lakes, and charming small towns. If you're looking to escape the hustle and bustle of city life and bask in the beauty of the great outdoors, there's no better way to do so than with a picnic. No matter where in the county your adventure takes you, we'll take you on a journey through some of the most beautiful picnic spots in Lanark County, where you can unwind and connect with nature. If you don't want to make your own picnic, we have some suggestions on where you can get a delicious bite to go. And we have ideas to make your picnic into a full day event with nearby things to see and do. Just relax and enjoy.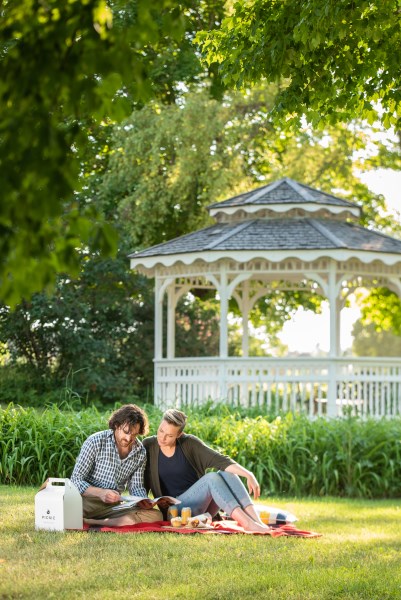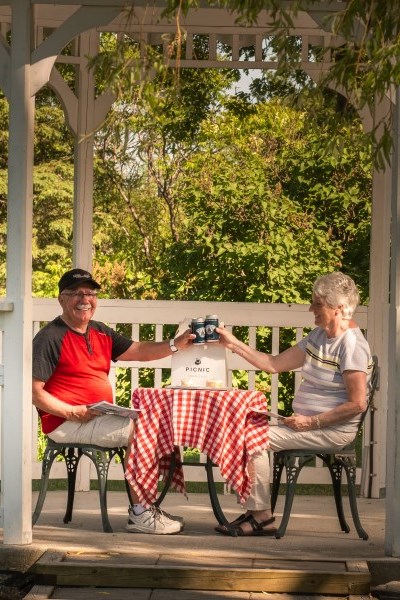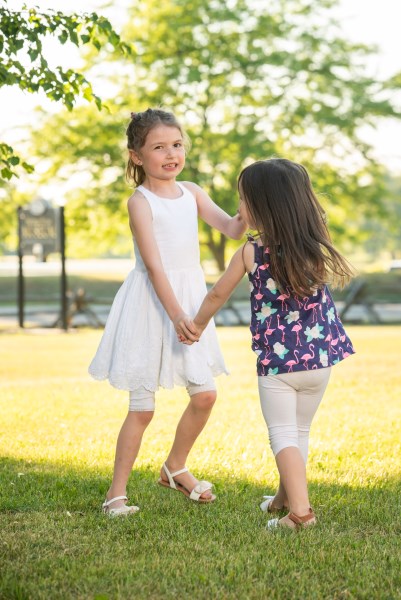 Beckwith – Beckwith Park
Nestled in Beckwith Township, Beckwith Park provides a serene setting for a picnic. Set up your picnic blanket near the picturesque pond, surrounded by lush greenery and colorful flowers. Enjoy a leisurely lunch and soak in the tranquility of the park. Afterward, take a stroll along the walking trails and explore the park's playground and splash pad or play a game of soccer.
Make a day of it: We recommend you pick up some chips and burgers at The Crispy Spud for your picnic. We honestly believe you could spend the entire day at the Beckwith Recreation Complex but if you plan your trip around one of the Beckwith Festivals, you could also enjoy the Harvest Festival or Beckwith Heritage Days.
Carleton Place – Riverside Park
Located on the banks of the Mississippi River, Riverside Park in Carleton Place offers a peaceful picnic setting. Choose a spot along the riverbank, admire the scenic views, and indulge in a delicious picnic meal. Take a leisurely walk along the riverside pathways, explore the park's playground and splash pad, and immerse yourself in the natural beauty surrounding you.
Make a day of it: Grab some delicious sandwiches and treats from Taste Blooms bakery for your picnic and then head over to the Carleton Place Visitor's Centre to borrow the pieces for a round of giant chess.
Drummond North Elmsley – Yacht Club Beach
In Drummond/North Elmsley Township, head to Rideau Ferry's Yacht Club Conservation Area for a memorable picnic experience. Situated on the shores of the stunning Lower Rideau Lake, this location offers breathtaking views and tranquil surroundings. Spread out your picnic blanket near the water, enjoy the gentle breeze, and take in the idyllic scenery. The beach is sandy with great swimming and plenty of shaded picnic tables for you to watch the world go by.
Make a day of it: You cannot go wrong with a meal from Jimmy's Snack Shack in Rideau Ferry (we recommend the souvlaki). After your picnic at the beach, head to the Port Elmsley Drive In and enjoy a movie under the stars.
Lanark Highlands – Purdon Conservation Area
Purdon Conservation area is a hidden gem in the heart of Lanark County, with lush green meadows, tranquil trails, and breathtaking scenery. But what truly sets Purdon Conservation Area apart is its awe-inspiring display of Lady's Slipper Orchids. In the months of June and July, these delicate and rare flowers bloom, transforming the landscape into a captivating wonderland. As one of the Seven Wonders of Lanark County, witnessing these majestic orchids in their natural habitat is an experience that will leave you enchanted. So pack your picnic basket, immerse yourself in the serenity of Purdon Conservation Area, and create cherished memories surrounded by nature's beauty.
Make a day of it: Put together a custom charcuterie basket for your picnic at Balderson Village Cheese Store and after taking in the orchids and Purdon, head out on a trek up Blueberry Mountain for the gorgeous views.
Mississippi Mills – Five Span Bridge Park
Situated alongside the Mississippi River, this park offers the perfect setting for a delightful outdoor feast. With its inviting picnic tables and a shade structure right on the riverbank, you can enjoy your meal while immersing yourself in the tranquil surroundings.
But let's talk about the star of the show—the famous Five Span Bridge. One of the Seven Wonders of Lanark County, this bridge is the only one of its kind in North America. Originally meant for horses and carriages, the bridge underwent a restoration in 1984 to accommodate modern automobiles. The process involved meticulously removing and repositioning the locally sourced stones, ensuring the bridge's historical integrity was preserved.
Make a day of it: Pick up tacos from Pura Vida Food Truck in Almonte and you are certainly going to want Scoops Ice Cream from Pakenham. Take a short walk from Five Span Bridge Park to view the beautiful architecture of St. Peter Celestine Church.
Montague – Rosedale Hall
Enjoy a rural daydream in the Township of Montague with a sweet picnic at Rosedale Hall. Surrounded by fields with grazing sheep and cows, you can enjoy the new playground at the hall and talk about how much you would love to move there. So grab your picnic blanket, pack your favorite treats, and make your way to Rosedale Hall Park for a truly magical picnic adventure.
Make a day of it: Pick up your meal from the Country Diner in nearby Smiths Falls and bring your canoe, kayak or SUP to the Montague boat launch for a paddle on the Rideau River.
Perth – Stewart Park
Located in the heart of the charming town of Perth, Stewart Park is a delightful destination for picnicking. Spread out a blanket on the lush green lawn, enjoy a sandwich from one of the local bakeries, and take in the stunning views of the Tay River. Kids can explore the playground and splash pad, while adults can stroll through the park's beautiful gardens.
Make a day of it: Order a custom picnic basket from Gather for lunch and then spend the day shopping in beautiful downtown Perth.
Smiths Falls – Lower Reach Park
This dynamic park is situated along the banks of the iconic Rideau Canal, a UNESCO World Heritage Site, and offers breathtaking views of the waterway. Enjoy the playground, splash pad, basketball and tennis courts, and public docks. Facilities in Lower Reach Park include picnic tables, benches, and washrooms, ensuring that your picnic experience is comfortable and convenient.
Make a day of it: Pick up lunch to go from Boomtown Fusion Eatery and spend the rest of your day taking in Canadian railway history with a trip to the Railway Museum of Eastern Ontario or enjoying a show at the Station Theatre.
Tay Valley – Murphys Point Provincial Park
For a more secluded picnic experience, head to Murphys Point Provincial Park. Located on the shores of Big Rideau Lake, this park boasts stunning views of the water and the surrounding forests. Spread out your picnic blanket on the sandy beach, take a dip in the refreshing waters, and soak up the tranquility of nature. After lunch, explore the park's hiking trails, go fishing, or take a paddle in a canoe.
Make a day of it: Explore the Silver Queen Mine, one of the Seven Wonders of Lanark County.
Lanark County is a treasure trove of beautiful picnic spots, each offering its own unique charm and natural beauty. So pack your picnic basket, grab a blanket, and immerse yourself in the beauty of Lanark County's nature and community.
Plan your Trip
Trip Ideas
We invite you to make your picnic extra special by gathering delightful treats from local stores to fill your picnic basket. After indulging in your outdoor feast, enjoy some indoor fun or explore the exciting events happening in Lanark County.