Embark on a captivating literary journey through Perth with our one-day book tour, where you'll uncover the treasures of three local bookstores that celebrate local writers and music, while also immersing yourself in a range of suggested events, from self-guided heritage tours and serene book picnics to exciting Geocaching adventures and a fun-filled round of mini golf. This enriching trip is designed to offer you a multifaceted exploration of Perth, starting with books and expanding into a full-spectrum experience that encompasses the town's diverse offerings.


---
Start With Exploring Bookstores
Discover a world of literary wonders as you step into three enchanting local bookstores that not only celebrate local writers but also harmoniously blend the magic of music and offer tailored recommendations for every type of reader.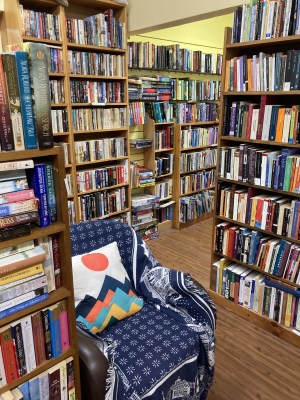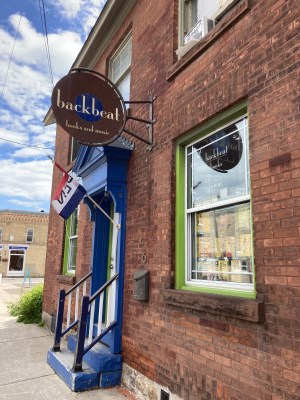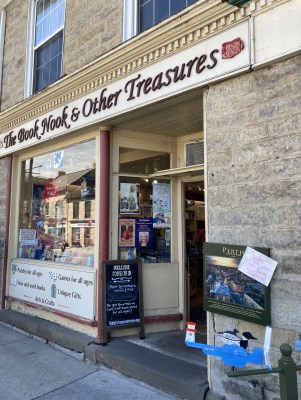 First Stop: Spark Books & Curios
Start your day at Spark Books & Curios, a local gem with passionate owners ready to guide you through their curated selection. Get lost among the shelves as they recommend your next read, whether it's a children's tale or a popular novel.

📍 76 Foster St, Perth, ON K7H 1S1
Next Stop: Backbeat Books and Music
Just a stone's throw away is Backbeat Books and Music, a haven for bibliophiles and music enthusiasts alike. This unique bookstore not only offers a diverse collection of books but also vinyl records and albums. Let the harmonious blend of literature and music set the tone for your day. Their creative book and album pairing ideas on social media might just inspire your own perfect playlist.

📍 6 Wilson St W, Perth, ON K7H 2M5
Next Stop: The Book Nook & Other Treasures
As you continue your literary exploration, make a stop at The Book Nook & Other Treasures. Uncover novels that unfold in the very streets of Perth, adding an extra layer of connection to the town. The store's rich history, once home to Haggis' Homemade Candy, adds to the charm of your journey.

📍 60 Gore St E, Perth, ON K7H 1H7
Discover books set in Perth
Let these books offer you a fresh perspective and immerse you in the enchanting charm of Lanark County, while also supporting local bookstores and celebrating the works of local writers.


Mystery & Crime

📚 A Summer's Fortnight in Perth / Ron Keeler
This modern mystery involving three elderly gentlemen living in or near Perth, Ontario, centers around a seemingly mindless series of brazen murders.
📚 In These Disconsolate Woods / Michael J. McCann
In the tranquil woods of Perth, Ontario, the life of former hockey star Grant Burnham is brutally cut short when he is murdered on his private land, thrusting Ontario Provincial Police Detective Inspector Ellie March into a challenging investigation, complicated further by a shortage of detectives, and a race against time to unravel the mystery.
---
Memoir

📚 Fox Tail / John Fenik

On a water access only property, in the Canadian wilderness, John Fenik and his wife Laurie, decide to build a traditional off the grid timber frame cabin. Months into the build the Covid pandemic hits. What could go wrong? This tale is not one of those stories where everything went right. On the contrary, it is more a story of what went wrong. Reading this book, I hope you will feel the same way I feel when I see a kid auditioning for one of those television talent shows. It doesn't matter if the kid is successful or fails miserably, both outcomes will be thoroughly enjoyable.
📚 Lanark County Chronicle / Arlene Stafford-Wilson
In "Lanark County Kid" and its sequel, Stafford-Wilson transports readers back to her family farm in 1960s and 1970s Bathurst Township, inviting them to share in her charming and nostalgic adventures across various towns and events, offering a heartwarming glimpse into rural life in Eastern Ontario.
📚 Recipes and Recollections: Treats and Tales from our Mother's Kitchen / Arlene Stafford-Wilson
With a baking legacy spanning over twenty years, Audry Stafford not only triumphed in numerous baking competitions at the Perth local fair but also ascended to the role of a respected judge, lending her expertise to county fairs across Eastern Ontario. Within the pages of this book, Stafford's prized recipes make their debut, including her foolproof pastry, delectable cookies, lusciously creamy fudge, and the highly coveted sourdough creations.
---
Photography
📚 PERTH – Spirit Of Place / John McQuarrie
The author's stunning photographs skillfully depict the ever-changing tapestry of Perth's four distinct seasons – spring, summer, autumn, and winter – each bursting forth with its own unique rhythm and essence.
---
📚
This Fair Town Perth in Photographs
This book offers a captivating glimpse into the beauty of Eastern Ontario's charming town, showcasing its historic architecture, lively festivals, and serene parks through stunning images that capture the essence of each season.
Book Lover's Picnic: Curated Reads from Local Bookstores
We've consulted these literary havens to provide you with a curated selection for your reading pleasure. Delve into our suggested picks available at these bookstores, or simply inquire for tailored recommendations that suit your preferences. Get ready to immerse yourself in a captivating read during your picnic!

📚 Before Your Memory Fades / Toshikazu Kawaguchi

Translated from Japanese by Geoffrey Trousselot and featuring signature heart-warming characters and wistful storytelling, in Before Your Memory Fades, Kawaguchi once again invites the reader to ask themselves: what would you change if you could travel back in time?
📚
Burn / James Patterson
Detective Michael Bennett finally returns to New York City—and to the most unsettling, horrific case of his career.At last, Detective Michael Bennett and his family are coming home to New York City. Thanks to Bennett, the ruthless crime lord whose vengeful mission forced the Bennett family into hiding has been brought down for good.
📚
Dearly / Margaret Atwood
By turns moving, playful and wise, the poems gathered in Dearly are about absences and endings, ageing and retrospection, but also about gifts and renewals. They explore bodies and minds in transition, as well as the everyday objects and rituals that embed us in the present. Werewolves, sirens and dreams make their appearance, as do various forms of animal life and fragments of our damaged environment.
📚
Norse Mythology /
Neil Gaiman
Neil Gaiman, long inspired by ancient mythology in creating the fantastical realms of his fiction, presents a bravura rendition of the Norse gods and their world from their origin though their upheaval in Ragnarok.
📚
Meet Me at the Lake / Carley Fortune
Fern Brookbanks has wasted far too much of her adult life thinking about Will Baxter. She spent just twenty-four hours in her early twenties with the aggravatingly attractive, idealistic artist, a chance encounter that spiraled into a daylong adventure in Toronto. The timing was wrong, but their connection was undeniable: they shared every secret, every dream, and made a pact to meet one year later. Fern showed up. Will didn't.
Perth & District Union Public Library
Old Fire Hall ( Library Administrative Offices)
📍 30 Herriott St, Perth, ON K7H 1T2

Valuable Heritage
The Tower, a captivating landmark that stands as one of the few surviving fire halls from as early as 1855. Its remarkable preservation is a testament to the remarkable craftsmanship of its era. Once an essential fire station, the building was later repurposed as an Art Gallery, earning the name "Fire Hall Gallery," and now proudly finds its place within the esteemed Perth & District Union Library, offering a glimpse into Perth's storied past.

Cinematic Tale
Delve into the enchanting past of this hall, which once transformed into a movie set for the 1955 film "The Hoax," shot right here in the picturesque town of Perth, Ontario. Immerse yourself in the plot set in the fictional town of Tayville, where a local museum becomes the epicenter of an enthralling drama, sparked by a daring reporter's quest to unravel the authenticity of a prized exhibit – a human skull. This cinematic connection adds a layer of intrigue to the hall's legacy, inviting you to uncover the secrets of its past.

Embark on a book picnic with your newfound literary companions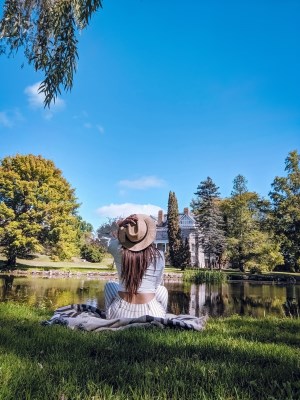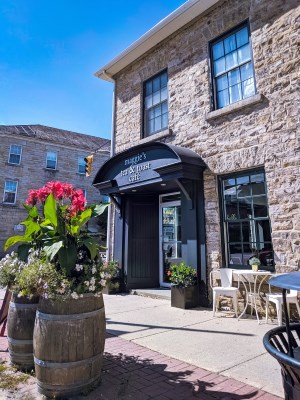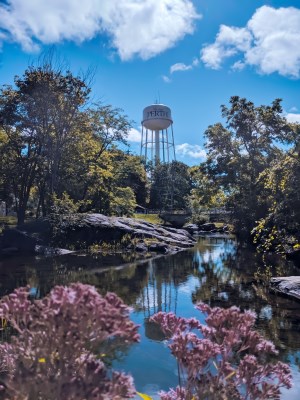 Gather treats from local favorites
Embark on a delightful picnic adventure by stocking your basket with delectable treats from our local café, perfect for convenient take-away. And if the weather doesn't cooperate, you can also enjoy the option of dining in and savoring your meal indoors. Plus, don't miss the opportunity to discover the charm of our carefully chosen two local cafes, which are just the beginning of an extensive list of restaurants awaiting your exploration.

---
🍴 North Folk Café & Bakery
📍 1 Gore St W, Perth, ON K7H 2L5

Operating every day of the week, this charming Downtown Perth Bakery & Cafe invites you to savor its warm ambiance while indulging in a diverse selection of freshly baked treats. Gluten free and vegetarian friendly options are available.
Recommend: Home-made Bagels, Smoked Ham and Cheese Panini, Coffee
---
🍴 Fieldhouse
📍 43 Herriott St, Perth, ON K7H 1T5
Delight in our delectable lunch options, including a variety of sandwiches, salads and noodle bowls, as well as their specialty baked goods. Craft Beers and vegetarian friendly options are available.
Recommend: Kale Salads, Chicken and Brie Sandwiches, Chocolate Croissant
Choose from two picturesque parks for your book picnic
Stewart Park, one of Lanark County's Seven Wonders, boasts a tranquil setting with the Tay River meandering nearby. You can read by the picnic area, or lush grassy spots.

📍 41 Mill St, Perth, ON K7H 1W2

---
Alternatively, opt for the Last Duel Park, complete with picnic spots and a boat launch dock. Here, you can read surrounded by nature's beauty, or even take your book out onto the water.

📍 22 Craig St, Perth, ON K7H 1X8
Route 1: Stewart Park
What to do next after Book Picnic


🚶 Self-Guided Walking Tours
The allure of downtown Perth awaits afterward, where guided heritage tours reveal the town's history and culture. Select from a variety of engaging thematic walking tours (or why not experience them all!) using the complimentary Driftscape walking tour app, available for download on your phone or tablet. Visit the Visitor Information Centre for free WiFi to download the app or to receive assistance if required.

Feel like discovering the town at your own pace? If you prefer tangible guides, you have two choices: swing by the Perth Visitor Information Centre at 11 Gore St. to grab a self-guided tour brochure, or print your own copy at home. This version boasts more than 65 stops and leads you on a comprehensive journey across town.
---
🎨 Explore Studios and Galleries
Perth is teeming with a wealth of skilled professional artists specializing in drawings, paintings, glasswork, and sculptures. Draw creative inspiration from Studio 87, an exquisite fine art gallery, as well as various local studios. Delve into engaging workshops at The Cordwood Studio, where you can explore natural hide tanning buckskin and Round Willow Handbasket crafting, amongst others. Unleash your artistic flair and savor memorable family moments as you create your own masterpieces.

For an enriching encounter with local artisans, be sure to include the Art Works Perth Studio Tour and Perth Autumn Studio Tour in your itinerary.
---
🏛 Visit Perth Museum
Step back from the modern era into the enchanting realm of the 1840s at the graceful Matheson House, the esteemed abode of the award-winning Perth Museum. Nestled downtown at 11 Gore Street East, this cherished tourist gem stands as a National Historic Site.

Crafted from stone in 1840, this residence was commissioned by the Honourable Roderick Matheson, a prosperous merchant and a distinguished senator during Canada's inaugural parliamentary assembly following Confederation. Immerse yourself in the past through four meticulously preserved period rooms – the parlour, dining room, drawing room, and the inviting kitchen – all adorned to recapture the Matheson family's 90-year legacy within its welcoming walls.
Route 2: Last Duel Park
What to do next after Book Picnic

For an added dose of fun, embark on a Geocaching adventure or challenge your skills at mini golf in Perth Major Outfitters Boat Rentals & Mini Golf.

🌳 Geocaching adventure
Did you know? Your journey through Last Duel Park just got a thrilling upgrade! Introducing the Geocaching Adventure Lab, a cutting-edge app that takes your explorations to the next level.

Dive into a world of exciting quests, challenges, and location-based games that bring Last Duel Park to life like never before. Whether you're a seasoned adventurer or a curious newbie, this app is your ticket to an interactive and immersive experience.
---
⛳ Mini Golf
For those seeking a different kind of challenge, gear up for a friendly competition at the newly introduced 10-hole mini putt course by Perth Major Outfitters Boat Rentals & Mini Golf. It's a blast for the whole family, offering a twist by swapping out the typical green for a vibrant blue playing surface.

Here's more to add to your Last Duel Park escapade! If you're craving some aquatic fun, look no further. Unleash your inner adventurer with on-site or off-site rentals of Kayaks, Canoes, Corcls, and Paddle Boards. Glide through the serene waters and create lasting memories against the backdrop of the park's natural beauty.

End Your Day with Delightful Dining
Indulge in a Delectable Dinner
As the sun begins to set and your appetite stirs, get ready for a delectable dining experience in charming Downtown Perth. With an array of choices that cater to every palate, you're in for a treat! Whether you're a fan of dishes made with locally sourced and fresh ingredients or you're craving international flavors that transport your taste buds, Perth has it all.
---
📍 55 Gore St E, Perth, ON K7H 1H6

Savor the vibrant flavors of Mexico with a touch of California, all while basking in the serene view of the Tay River. Delight in a fantastic lunch experience that caters to both young and old, complemented by a charming patio setting
---
🍴 The Stone Cellar
📍 71 Gore St E, Perth, ON K7H 1H7
Elevate your dining experience at The Stone Cellar Restaurant, a family-run gem where culinary artistry meets historic charm. From award-winning cuisine to an ever-evolving menu, savor casual fine dining in a captivating stone building. Unwind on the serene patio and let expertly paired wines complement your culinary journey.

Stay in Perth and Make it a Two-Day Trip
Experience a delightful stay in Perth while immersing yourself in local festivals, discovering vibrant farmers' markets, engaging in outdoor sports, or venturing into the nearby charming towns

Discover Your Perfect Stay
Indulge in a charming stay in Perth with a range of accommodation options to suit your preferences. Whether you're seeking spa luxuries and proximity to Stewart Park at the Best Western Plus Perth Parkside Inn & Spa, or a boutique retreat like the Nevis Estate Boutique Bed & Breakfast, you'll uncover the essence of Perth while relishing the serenity of your lavish accommodations.

Essential Tips for Crafting Your Journey