Get ready to experience the ultimate family adventure on your upcoming vacation! The stunning Lanark Highlands are calling, and we've got everything you need to make the most of your time here. From the most breathtaking trails, lakes, farms, and golf courses you'll ever lay your eyes on, to a range of exciting activities like fishing, camping, golfing, and hiking, there's something for everyone to enjoy. This is the perfect opportunity to fuel your sense of adventure and create unforgettable memories with your loved ones and there's never been a better time to visit. This itinerary is recommended for spring-fall, though some activities are seasonally dependent so please ensure all attractions are open as you plan.


---
Start Here: Wheelers Pancake House and Sugar Camp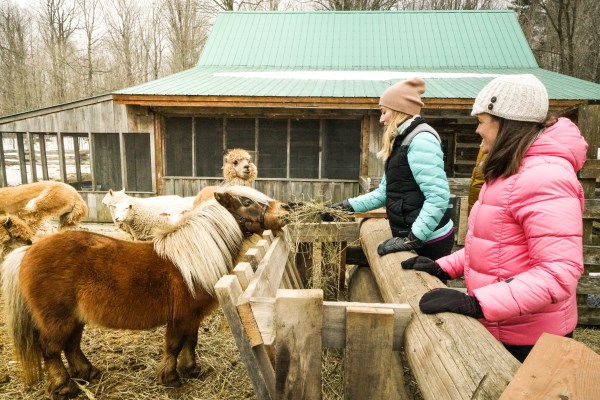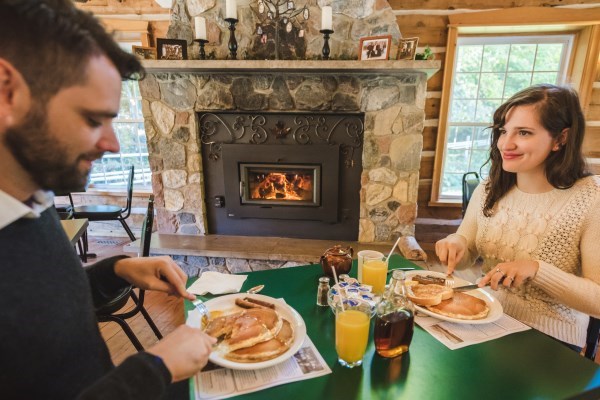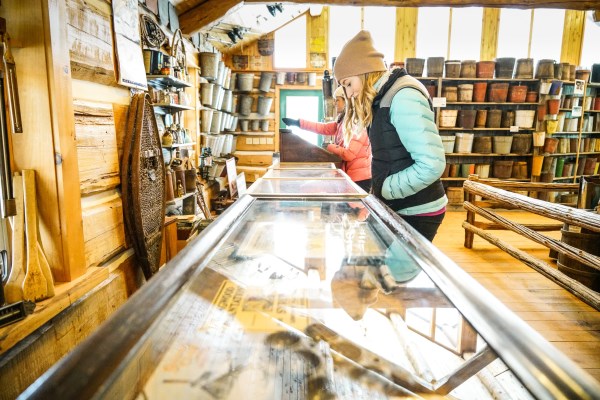 Indulge in a scrumptious pancake breakfast
Wheelers Pancake House is a rustic haven nestled amidst sprawling woods, featuring large windows that offer a sense of being one with nature.

They're renowned for their freshly made, generously sized pancakes, and their homemade maple sausages are a crowd-pleaser.

For those with dietary restrictions, they offer gluten-free, egg-free, and mix-free pancake mix upon request.

📍 1001 Highland Line, McDonalds Corners, ON K0G 1M0

Trails and Animal Barn Adventures Await
Hiking Trails
At Wheelers Pancake House, guests enjoy access to five scenic hiking trails, ranging from 0.3 km to 4.5 km. Take a leisurely stroll through the maple tree route that offers gorgeous sights of the sugarbush, or indulge in a lengthier adventure on the maple trail that takes you deep into the heart of the maple forest.
---
Animal Barn
After indulging in a scrumptious pancake breakfast, head on over to the charming on-site barn where you'll be greeted by an array of adorable furry companions. Say hello to their year-round residents such as sheep, alpacas, and horses, and don't forget to check out their miniature horse, guaranteed to melt your heart! If you visit during the summer months, you'll have the chance to meet their seasonal animals, including playful pigs, gobbling turkeys, and clucking chickens.
Museums on the Premises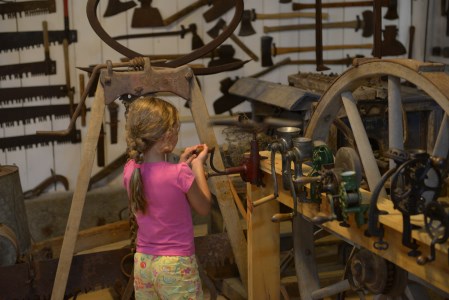 Discover a fascinating world of history and tradition at their on-site museums! Immerse yourself in the captivating exhibits of the Wheelers Maple Heritage Museum, where antique maple-related items of all kinds are on display. From the First Nations' historic contribution to the modernized methods used by settlers today, this museum offers a thought-provoking journey through time.

If that's not enough, head over to the Forest & Farm Museum where you'll find yourself surrounded by over 600 vintage chainsaws and an impressive collection of unique farming tools. It's a must-visit destination for anyone interested in the history of farming equipment and forestry tools.
Bonus: Sweeten Your Outdoor Adventure
Lanark County is the Maple Syrup Capital of Ontario so be sure to pick up some locally made maple syrup and maple sugar candy during your visit. Drizzle the maple syrup on your BBQ dishes or indulge in a maple sugar candy as a sweet treat after a long day of activities. Not only will you be supporting a local business, but you'll also be treating yourself to the authentic flavors of the region.

Next Stop: Choose Your Fun-filled Outdoor Experience
Following a scrumptious breakfast at Wheelers Pancake House, indulge in some thrilling outdoor activities. Spend quality time with your family while fishing or exploring the animal kingdom at the Rosetta Hills farm that offers mini-golf. Alternatively, venture into the great outdoors and test your golfing skills at the acclaimed Blue Heron Golf Club. Choose your preferred activity and have a blast with your loved ones.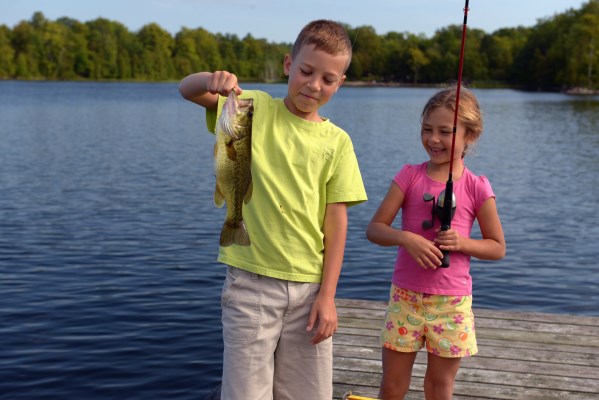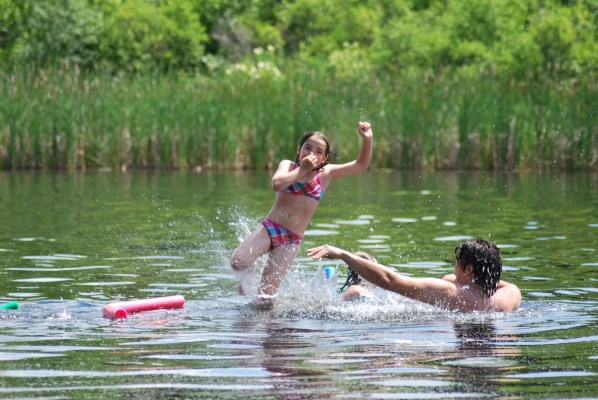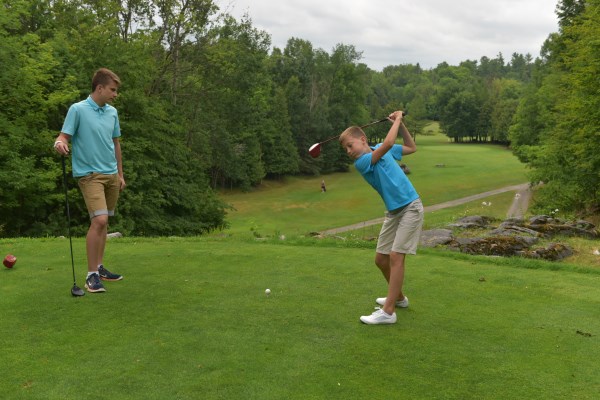 Option 1 - Experience the Thrill of Fishing at Dalhousie Lake
Experience the perfect family getaway at Dalhousie Lake, where everyone can enjoy the great outdoors. Treat your little ones to the joys of fishing, with Largemouth Bass, Walleye, and Northern Pike swimming aplenty in the lake. If fishing isn't your thing, not to worry, as there are plenty of other activities to keep everyone entertained, from swimming in the pristine waters to exploring the lake's shores by canoe or non-motorized boats. Relax and unwind with your loved ones on the sandy beach, where you can soak up the sun and create precious memories.

📍 Lavant Mill Road, Lanark, ON K0G 1M0

---
Lunch Here:

🍴 Dalhousie Lake Restaurant (Friday to Sunday Only)
📍 4195 County Rd 8, McDonalds Corners, ON K0G 1M0
Situated on the picturesque grounds of Sylvania Lodge, this Canadian and Chinese food restaurant is a true gem that you wouldn't want to miss. From mid-April until the end of November, the doors of this culinary haven are open to those who love to indulge in mouth-watering dishes. Whether you crave the rich flavors of Canadian cuisine, or the bold spices of Chinese dishes, this restaurant has got you covered with a tantalizing menu that caters to all tastes and needs.
🍴 Fall River Cafe (Wednesday to Sunday)
📍 21980 Hwy 7, Maberly, ON K0H 2B0

Discover the flavorsome fare of Fall River Cafe, where lunch options abound with salads, sandwiches, omelettes, waffles and more. And if you have little ones in tow, you'll be delighted to know that they have a dedicated kids' menu as well as vegan options. But wait, there's more - a little free library awaits you at the cafe! Take a break from your meal and browse through the books on offer, or exchange a title or two with your little one. You can even sit down to read and enjoy the cozy ambiance of the cafe.
Option 2 -Mini Putt and Farm Adventures at Rosetta Hills
For families with animal lovers and mini golf enthusiasts, Rosetta Hills is a must-visit destination. The alpaca farm offers guided tours, where you can get up close and personal with these adorable animals, even getting the chance to feed and pet them. Take it a step further by walking an alpaca, creating unforgettable memories for your little ones.

For a game of mini golf, the course overlooks the property and animals, offering breathtaking views as you play. And if you're looking for a spot for picnics, the farm has trails for you to take in the picturesque landscape.

Are you ready to have an unforgettable experience at this amazing place? Just remember, bookings are essential as they are only available by appointment.

📍 647 Rosetta Rd, Lanark, ON K0G 1K0

---
Lunch Here:

🍴 Fitz's Fresh Cut Fries
📍 103 Mill St #101, Lanark, ON K0G 1K0

With a complete take-out menu that includes fresh-cut fries, homemade burgers, sandwiches, salads, finger foods, and of course, their signature fresh curd poutines, Fitz's Fresh Cut Fries has something for everyone. And the best part? They're open seven days a week, so you can indulge in their delectable fare whenever the craving hits. Whether you're in the mood for a quick lunch on the go or a satisfying snack, Fitz's Fresh Cut Fries is the perfect spot.
🍴 Lanark Pizzeria
📍 72 George St, Lanark, ON K0G 1K0
Looking for some authentic Italian cuisine? Look no further than Lanark Pizzeria! This restaurant brings a touch of Italy to your plate with its mouthwatering pizza, pasta, and other classic dishes. Each pizza is baked fresh in the oven using original methods, ensuring the perfect combination of crispy crust and delicious toppings.
Option 3 -Enjoy a Round of Golf at Blue Heron Golf Club
Get ready to enjoy an exceptional golfing experience surrounded by the stunning natural beauty of Lanark County's Maple Sugar Bush at Blue Heron Golf Club. With tree-lined fairways and elevation changes, this golf club offers a challenge for all levels of golfers. You won't want to miss the breathtaking view from the tee on the signature ninth hole, which is picture-perfect.

But that's not all - Blue Heron Golf Club is great for families too! They offer a special kids' program where children 13 or under can golf for free with an adult during a specific time slot, and kids can also rent equipment for free.

📍 3417 McDonalds Corners Rd, Lanark, ON K0G 1K0

---
Lunch Here:

🍴 Lanark Pizzeria
📍 72 George St, Lanark, ON K0G 1K0
Looking for some authentic Italian cuisine? Look no further than Lanark Pizzeria! This restaurant brings a touch of Italy to your plate with its mouthwatering pizza, pasta, and other classic dishes. Each pizza is baked fresh in the oven using original methods, ensuring the perfect combination of crispy crust and delicious toppings.
🍴 Mulligans Grill @ Blue Heron Golf Club

The on-site restaurant offers a range of delicious dishes fresh from their menu, as well as daily specials that will tantalize your taste buds. Whether you're in the mood for a classic dish like a chicken Caesar wrap or a hearty burger, the golf course has something for everyone.

End Here: Unwind in Our Campground & Cottage, Accommodations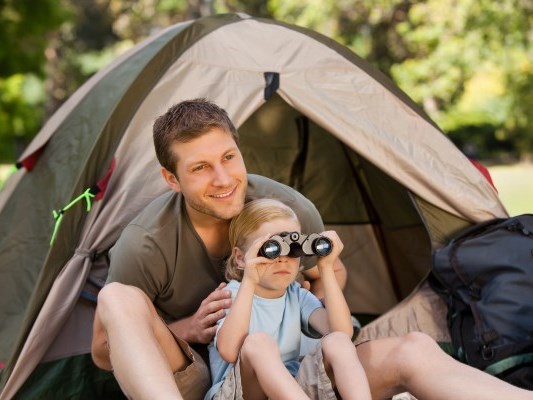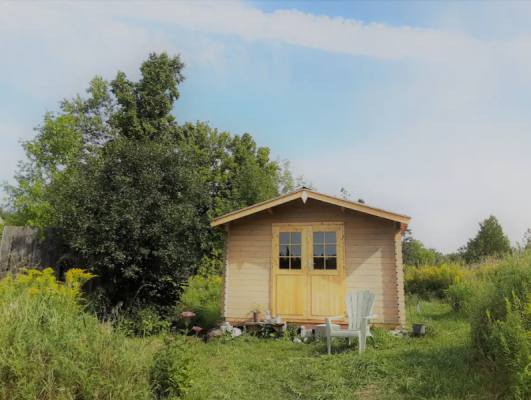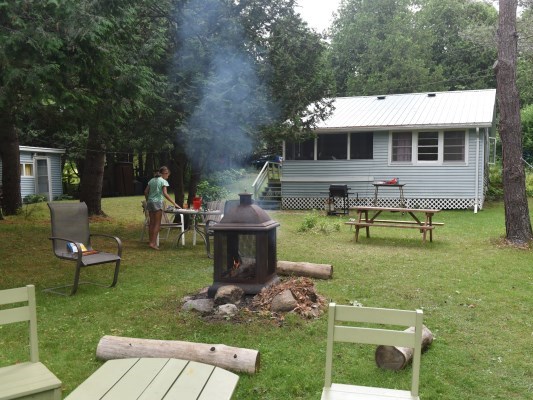 Family-Friendly Accommodations
After a fun-filled afternoon spent fishing, golfing, or visiting an animal farm with your family, take some time to relax and connect with nature in one of our family-friendly accommodations. Our campground and cottage options provide the perfect retreat for those looking to unwind in beautiful surroundings. Gather around the BBQ pit to grill the fish you caught earlier in the day or enjoy a delicious outdoor BBQ with your loved ones.

---
Campground & Cottage

🌄 Closs Crossing Treehouse
📍 100 Heron Dr, Lanark, ON K0G 1K0

Looking for something more on the luxurious end but still packed with adventure? The Cabin is your indoor oasis with a fully equipped kitchen, elegant bathroom, master bedroom, second bedroom, dining area and living space. Off of the Cabin is a covered, outdoor dining area with a BBQ. The Treehouse is only a few steps away and features the third bedroom with stunning views.

And yes, the Treehouse has heat and AC! The 1-acre fenced property has water on 3 sides and is located at the end of a private cottage road. There are many outdoor spaces for you to enjoy including; a lounge area in the pergola, hot tub under the Treehouse and a private beach with a dock. Kayaks, a paddleboard, water-slash-pad and life jackets are provided.
🌄 Paul's Creek Camping
📍 6758 McDonalds Corners Rd, McDonalds Corners, ON K0G 1M0
Paul's Creek Camping offers a comprehensive range of modern camp facilities, along with both on-site and local events and activities to keep you entertained throughout your stay. They provide a multitude of services, including seasonal and transient camping, glamping cabin, tent camping, and much more!

You won't need to worry about packing too much, as they have everything you need on-site, including fully-equipped luxury cabin rentals. If you want to BBQ on-site, they also have wood available to purchase. In addition, kids can have a blast at the playground, basketball court, beach volleyball court, and horseshoe pits.
🌄 Sylvania Lodge
📍 4195 County Rd 8, McDonalds Corners, ON K0G 1M0

Sylvania Lodge offers budget-friendly, two-bedroom cabins that are perfect for families seeking a peaceful getaway or fishing enthusiasts looking for unspoiled waterways to explore. Enjoy their licensed restaurant, children's play structures, horseshoe pits, and private riverfront beach with lounging dock.

Launch and docking for boats are included, and they also offer non-motorized fishing boats and canoe rentals. Plus, occasional fireworks and dinner buffet to the excitement.
Bonus : Experience the Blooming Showy Lady's Slipper Orchids at Purdon Conservation Area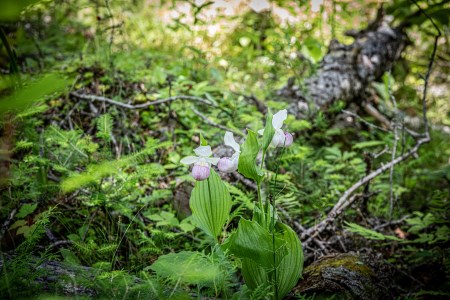 Explore Purdon Conservation Area, where you can immerse yourself in the spectacular beauty of Showy Lady's Slipper orchids. Please note that the blooming season for the Showy Lady's Slipper orchids at Purdon Conservation Area is typically June and July.

As you wander along the boardwalk trail, the peacefulness of the tranquil fen wetland will captivate you. There's no better place to witness the bewitching charm of Showy Lady's Slipper orchids - the queen of North American wildflowers. Roaming the boardwalk is like walking among delicate, fascinating creatures in a paradise filled with sweet floral scent and birdsong.

This natural oasis is an absolute must-see, whether you're a nature enthusiast or simply seeking a rejuvenating escape from everyday life. So, come and explore this magical wonderland at Purdon Conservation Area and witness the blooming season of these enchanting orchids.

📍 Concession Rd 8, Lanark Highlands, ON K0G 1M0
Craft your journey using our thoughtfully designed itineraries