Indulge in the rich flavors of Lanark County's locally roasted coffees while immersing yourself in a vibrant community of coffee enthusiasts. Our coffee shops go beyond serving exceptional brews – they curate events and workshops that foster connections and conversations. As you explore the charming streets, you'll also discover hidden gems for antique shopping, where you can find unique pots, coffee cups, and more to enhance your home coffee experience with beans sourced from local stores. Join us in savoring the perfect blend of coffee, culture, and community.

As you savor your exceptional cup of coffee, venture into the town's delightful antique shops where a realm of unique finds beckons. Enhance your coffee experience at home with exquisite coffee tables, charming pots, elegant cups, and an array of timeless pieces that resonate with history. These vintage gems not only add character to your living space but also complement the artistry of your chosen brew, inviting you to relish every sip in a truly enchanting atmosphere.


---
Carleton Place's Flavorful Fusion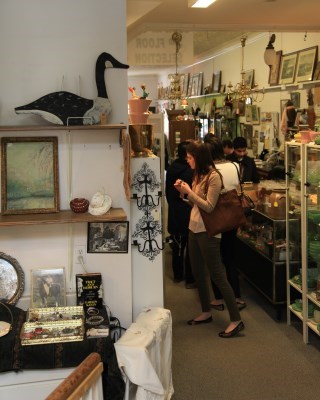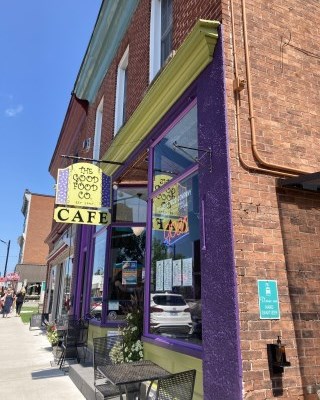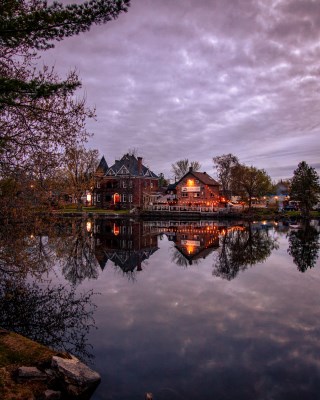 Start Your Journey with a Sip of Exquisite Coffee
Deadly Grounds Café
📍 1 Costello Dr Unit 5, Carleton Place, ON K7C 0B4

This horror-themed gourmet coffee shop is a haven for fans of the macabre, immersing customers in the thrilling realm of the horror genre from the very moment they step through its doors. For those with a taste for the macabre, a visit to the restroom is a must, with nods to the iconic horror film "Saw."



Within the walls of Deadly Grounds Café, creativity knows no bounds. A horror-themed foosball table and a coffin-shaped high table, masterfully crafted by local artist Keith Busher, add an extra layer of intrigue to your coffee experience. The cafe's offerings extend far beyond its ambiance, boasting an impressive range of coffee selections. From traditional roasts that warm your soul to flavored brews that excite your taste buds, and even decaf options for those who prefer a milder thrill — there's something for every coffee aficionado.
---
Freska Cafe & Eatery
📍 151 Bridge St, Carleton Place, ON K7C 2V6

Immerse yourself in the rich aroma of freshly ground valley-roasted coffee from Equator Coffee, a testament to the cafe's dedication to quality. For those seeking alternatives, a diverse selection of herbal teas and refreshing freshly pressed orange juice awaits, ensuring a delightful experience for coffee aficionados, non-caffeine enthusiasts, and even the little ones.



At Freska, the culinary journey is as captivating as the brew. Indulge your palate with a harmonious blend of savory and sweet options, each thoughtfully crafted to complement your coffee. Signature delights like the mouthwatering Chicken & Waffle, the tantalizing El Cubano sandwich, and the flavorful Fish & Chips invite you to explore a world of delectable possibilities.
Explore Captivating Antique Treasures Along the Way
Once you've savored your coffee, embark on a delightful journey through our antique and vintage stores, where you'll discover treasures to enhance your home coffee experience even further.
---
Stop 1: The Queens Crafters and Antique Market
📍 142 Bridge St, Carleton Place, ON K7C 2V5
A haven where local artisans and sellers come together to showcase their unique creations, all within the historic walls of the former Queens Hotel and Bar. Explore a diverse array of carefully curated crafts and vintage finds that reflect the rich heritage of this remarkable building.
Stop 2: Treasures 'N' More
📍
133 Bridge St, Carleton Place, ON K7C 2V4
A captivating assortment of both new and pre-loved toys, board games, and beyond awaits. Dive into a treasure trove of possibilities as you browse through their collection, and keep an eye out for exciting events like craft shows and board game nights that add a touch of magic to your exploration.
Stop 3: As Good As New
📍 33 Bridge St, Carleton Place, ON K7C 3N9
An amazing store for high-quality clothing and household treasures offered at thrift-store prices. Discover timeless pieces that resonate with style and practicality, all while making a positive impact on your wallet and the environment.
Stop 4: Murray's Furniture and Flea Market
📍
525 High St, Carleton Place, ON K7C 3P1
Over 35 diverse vendors await to showcase an eclectic array of goods, from charming glassware to captivating books and beyond. Explore the aisles, and you might just stumble upon the perfect hidden gem, enhanced by the occasional enticing discounts that make your discoveries even more delightful.

---
Bonus: Seasonal Antiquing at Log Farm Antiques
📍 1563 9th Line of Beckwith Township, Carleton Place, ON K7C 3P2

Discover the charm of Log Farm Antiques, a cherished destination with over 30 years of history. Open seasonally, this unique store showcases an array of pine Canadiana, sterling silver, antique corner cupboards, delicate china, enchanting lights, quaint garden accessories, vintage coffee grinders, timeless high chairs, and whimsical rocking horses. Explore a curated collection that captures the essence of bygone eras and adds character to your home
Indulge in a Coffee-Infused Luncheon and Local Events
Experience a captivating blend of options at Foundry Coffee and The Good Food Company. Delight in engaging in-store events at Foundry Coffee, and savor a delectable lunch paired with exceptional coffee. Meanwhile, at The Good Food Company, explore an array of high-quality regional ingredients, adding a touch of culinary excellence to your own creations.

---
Foundry Coffee Bar
📍
122 Bridge St, Carleton Place, ON K7C 2V5
Unearth a coffee haven at Foundry Coffee Bar, where ethically sourced coffee takes center stage alongside a vibrant community spirit. Delight in a vegan-friendly menu that harmonizes perfectly with your coffee choice.

As you enjoy your cup of joe, you're invited to immerse yourself in a world of events designed to forge bonds and kindle conversations. From lively Trivia Nights to soothing Yoga & Brunch sessions, Foundry Coffee Bar seamlessly blends exceptional coffee, delectable treats, and engaging events to create an experience that's more than just a visit – it's an opportunity to become a part of the local community fabric.

---
The Good Food Company
📍 31 Bridge St, Carleton Place, ON K7C 2V2

Step into a casual, counter-service bistro where the aroma of locally sourced, organic coffee from Fluid Coffee Roasters of Clayton fills the air. The indoor cafe beckons with its inviting atmosphere, while the covered outdoor eating area in the adjacent alley provides a picturesque escape.


Fuel your senses with a delectable array of delights crafted from the finest regional ingredients, such as eggs from the free-range hens of Bekings Poultry Farm, bread from Almonte's Baker Bob's, and Ontario milk and cheese. Don't miss exploring their pantry section, which boasts a treasure trove of locally-sourced gourmet food and beverages.
Discover Tempting Delights at Local Bakeries
Elevate your coffee experience even further by taking home a slice of local goodness, from delectable donuts to savory pretzels, and savor the perfect pairing in the comfort of your own space.
---
Holey Confections
📍
21 Bridge St, Carleton Place, ON K7C 3N9
Calling all donut enthusiasts! Prepare to be amazed by the delectable offerings at Holey Confections. Indulge in their 140-layered donuts, each bite a harmonious blend of flavors ranging from tangy raspberry to luscious cookies and velvety peanut butter. Crafted with precision and dedication, these delights feature locally sourced ingredients and homemade glazes.
---
Little German Baker
📍 14 Bridge St, Carleton Place, ON K7C 2V1
Looking to complement your coffee? Pair it with savory delights or indulge in a taste of Germany with options like pretzels, Berliners, apple fritters, and cherry Danish from the charming Little German Baker. Experience a diverse selection of authentic German baked goods that perfectly harmonize with your coffee experience.
End Your Day with a Riverside Dinner and Spectacular Views
Conclude your journey with a picturesque view of the Mississippi River as you savor a delightful dinner at two of our beloved and renowned restaurants. And remember, there's a plethora of other enticing options waiting for you to uncover and enjoy.

---
Boulton House
📍
35 Mill St, Carleton Place, ON K7C 1T8
Step into the charm of Boulton House, where history meets contemporary dining. Relish their waterside patio, offering a scenic backdrop to savor their seasonal menu crafted from the finest ingredients. Delight in creative cocktails and discover new culinary creations, all within the embrace of a historic setting.
---
The Waterfront Gastropub
📍
12 Bell St, Carleton Place, ON K7C 1V9
Experience culinary excellence at The Waterfront Gastropub, where fresh, delectable dishes await. Immerse yourself in the rhythms of local talent with live music performances multiple times a week. Indulge in the ambience of their waterside patio and explore a diverse selection of beer, wine, liquor, and handcrafted cocktails.
---
Mississippi Mills' Coffee Delights
Begin Your Adventure: Ottawa Valley Coffee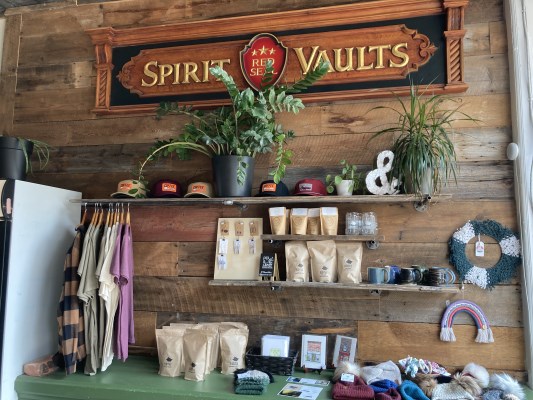 Discover Ottawa Valley Coffee, a haven where meticulously sourced, delectable coffee meets the finest local craft beer from micro-breweries, all complemented by the creations of skilled artisans.

Nestled within their walls is a unique community space that beckons you to explore. Their eco-conscious commitment shines through, as every corner reflects our dedication to upcycling and local sustainability.

📍 61 Mill St, Almonte, ON K0A 1A0

Next Stop: Antique Treasures in Downtown Almonte

Following your delightful coffee experience at Ottawa Valley Coffee, venture into downtown Almonte to uncover antique treasures waiting to be discovered. Immerse yourself in the charming streets as you explore, perhaps stumbling upon the perfect addition to your home coffee ritual – be it a captivating coffee table or exquisite coffee cups.

---
Stop 1: Almonte Antiques & Collectibles
📍
26 Mill St, Almonte, ON K0A 1A0
Nestled within a 5,000 sq ft two-level heritage building, Almonte Antiques & Collectibles beckons with its multi-vendor market, boasting over 50 vendor booths. Whether your heart desires vintage vinyl, charming cups, captivating paintings, or more, this treasure trove awaits to fulfill your unique cravings for timeless finds and hidden gems.
Stop 2: Big Vintage
📍
95 Mill St, Almonte, ON K0A 1A0
Step into the enchanting realm of Big Vintage, a treasure trove of antiques, vintage gems, collectibles, and fascinating curiosities. Uncover a delightful array of items, from charming little lamps to nostalgic vinyl records, and even locally-crafted wooden bowls that can elevate your home coffee experience. Immerse yourself in the past and discover unique pieces that add a touch of whimsy to your daily routine.
Stop 3: Brenda's New To You
📍
80 Mill St, Almonte, ON K0A 1A0
Brenda's New To You is a distinctive shop in downtown Almonte offering an exceptional array of handpicked treasures. If you're seeking exquisite housewares to adorn your living space, they have the perfect selection for you. With a variety of housewares and a plethora of gift ideas, Brenda's is a go-to destination. Their impressive collection of china is bound to capture your attention, and their extensive range of stylish and budget-friendly products ensures there's something for everyone.
---
Explore More Antique Treasures:

Almonte Vintage
📍 1972 Ramsay Concession 12, Almonte, ON K0A 1A0
Immerse yourself in a treasure trove of vintage kitchenware, nostalgic fashions, and unique finds. Discover pieces that tell stories of the past, lovingly crafted or refreshed in our studio.
Tin Barn Market
📍 73 Little Bridge St, Almonte, ON K0A 1A0
Embark on a journey through a meticulously curated collection of home decor and furniture. From vintage gems to upcycled wonders, each piece at Tin Barn Market carries a touch of history and charm.
Nine Lives Antiques
📍 30 Mill St, Almonte, ON K0A 1A0

Delve into the world of used books and literary wonders at Nine Lives Antiques. Specializing in the art of storytelling through pages, here you'll find a curated selection of literary treasures waiting to be explored.
Indulge in a Delicious Lunch at Tea and Cake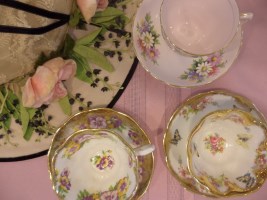 Craving a bite after your antique hunt? Step into Tea and Cake, a charming and timeless tearoom.

Apart from their delightful dine-in options for lunch and afternoon tea, indulge in a selection of freshly-baked treats, alongside a variety of tea, coffee, and specialty hot beverages. Their lunch menu boasts daily specials, sandwiches, salads, paninis, desserts, sweet treats, and more – perfect for both coffee aficionados and tea lovers.

📍 19 Bridge St, Almonte, ON K0A 1A0
Enhance Your Coffee Knowledge at Equator Coffee Roasters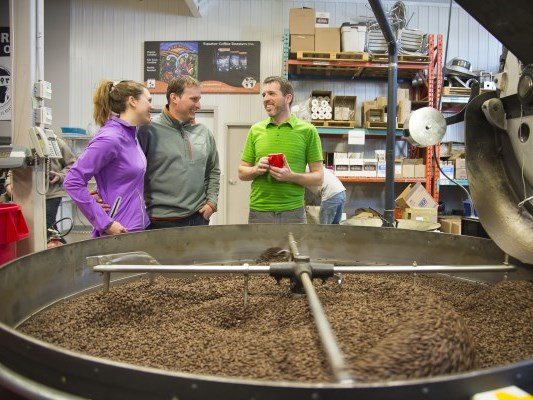 Discover the world of exceptional coffee at Equator Coffee Roasters, where the art of roasting, delivering, and serving fresh, fair trade, organic coffee takes center stage. Immerse yourself in their comprehensive training programs, ranging from Coffee 101 – an exploration of coffee tasting from around the globe – to advanced sessions like "Brew It Right," where you'll delve into the nuances of different brewing methods.

And don't miss their Roastery Tour, a captivating journey into the intricacies of coffee roasting, showcasing the dedication and expertise behind every sip.

📍 451 Ottawa St, Almonte, ON K0A 1A0
Conclude Your Journey with Local Gems: Hummingbird Chocolate Factory & Dairy Distillery
Embark on a delectable adventure that tantalizes your taste buds and awakens your senses. Discover the award-winning treasures of Hummingbird Chocolate Factory, where the art of chocolate-making comes to life. But the journey doesn't end there. Extend your exploration to Dairy Distillery, where innovation transforms dairy byproduct into the remarkable Vodkow Coffee Cream Liquor.

---
Hummingbird Chocolate Factory
📍
476 Ottawa St, Almonte, ON K0A 1A0
With a profound dedication to the farmers who cultivate the beans, they transform these quality cacao beans into exquisite chocolate in their small workshop.

Embark on a captivating Factory Tour & Tasting to witness firsthand the alchemy behind their award-winning creations. Immerse yourself in the process, from the origins of the cacao bean to the delectable chocolate bar, and discover the passion and craftsmanship that make Hummingbird Chocolate a true masterpiece.
---
Dairy Distillery
📍
34 Industrial Dr, Almonte, ON K0A 1A0
For coffee enthusiasts, a must-try is their Vodkow Coffee Cream Liquor, skillfully blending Vodkow cream liquor with Equator Coffee Roasters' organic single-origin coffee.

And to keep the coffee experience going, Dairy Distillery provides the ingredients and recipes for crafting your own enticing coffee drinks. Enjoy a journey through flavor and innovation at Dairy Distillery.
Bonus: Explore Keeper's Coffee Botanical and Vintage
Venture beyond Almonte to discover the charming coffee haven of Pakenham, where Keeper's Coffee beckons with its exquisite brews. As you savor your coffee, take note of the nearby marvel—the iconic Five Span Bridge, one of Lanark County's famed seven wonders. Extend your journey into a delightful two-day escapade: spend a night in Almonte, relishing the serene beauty of the Mississippi River, and then set forth to explore the captivating allure of Pakenham.

Keeper's Coffee Bar
📍 2518 County Rd 29, Pakenham, ON K0A 2X0

Step into a realm of artisanal excellence at Keeper's Coffee Botanical and Vintage. Indulge in meticulously crafted espresso and coffee, all while championing eco-conscious values. Treat yourself to delectable house-made pastries, thoughtfully curated with a focus on vegan and gluten-free options. Revel in the aromatic symphony of locally roasted beans and premium Sloane tea that graces our espresso bar. And for a touch of nostalgia, explore our well-curated vintage selection as you sip and savor in our inviting space.
---
Perth's Local Blend Delights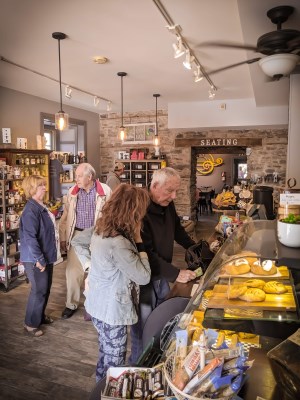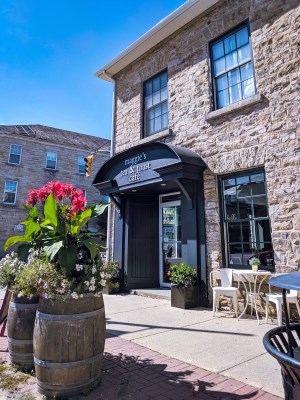 Begin your adventure: Two Captivating Starting Points for Your Exploration

Coutts Coffee Roastery & Café
📍
57 Gore St E, Perth, ON K7H 1H6
This Café is a popular place for coffee enthusiasts, dedicated to the art of roasting Arabica beans sourced directly from small farmers. With a commitment to Fair Trade and Organic practices, their in-house roasting method ensures each coffee's distinct attributes are lovingly brought to life in small batches.

Beyond their exceptional coffee offerings, you'll discover a delightful array of pastries, sandwiches, and an exquisite selection of teas, all within a charming atmosphere that celebrates the heart and soul of coffee craftsmanship.
---
Hourglass Coffee House
📍 1 Sherbrooke St E, Perth, ON K7H 1A1
Step into the rich history of The Old Perth Shoe Factory, an iconic century-old industrial building reborn as a hub of innovation and community. Begin your exploration at Hourglass Coffee House, nestled within this transformed space, where vintage industrial charm harmonizes with inviting coffee shop ambiance.

Take a moment to unwind on the cozy outdoor patio or find your perfect spot indoors, where ample seating invites you to savor the experience. Dive into a world of caffeinated delights with an array of cold beverages and expertly crafted hot espresso favorites. For those seeking plant-based alternatives, rest assured that our selection includes a variety of plant-based milks to complement your coffee choices.
Browse Through Vintage Treasures

After savoring a cup of exquisite coffee at Coutts Coffee Roastery & Café, while taking in the serene river view, your next step could be a delightful antique shopping spree. Uncover charming treasures to elevate your home coffee experience – think coffee trays, elegant tables, and more – adding a touch of vintage charm to your daily rituals.

---
Stop 1: Mariposa Design Inc.
📍 32 Gore St E, Perth, ON K7H 1H5

Delight in the ever-evolving selection of vintage linens, charming dishes, and petite furniture pieces that promise to infuse your space with character and beauty. With an eclectic blend of vintage, re-purposed, new, and locally hand-crafted treasures, you're bound to discover something that captures your heart.
Stop 2: The Collection Vintage
📍
98 Gore St E, Perth, ON K7H 1J2
Don't miss The Collection Vintage, where vintage home decor becomes a captivating journey. Discover a treasure trove of unique delights, from captivating paintings to exquisite cups and beyond. Whether you're seeking to enhance your own space or searching for the perfect gift for a loved one, our curated collection offers an array of timeless pieces that celebrate the beauty of bygone eras.
Stop 3: Gore St Antique Market
📍
147 Gore St E, Perth, ON K7H 1J8
Visit Gore St Antique Market, where history comes to life within the confines of their indoor antique flea market. Immerse yourself in a world of cherished treasures, where each corner holds a tale from the past. Explore an eclectic array of items, from delicate china and charming tea cups to captivating paintings and elegant glassware. With a diverse selection that spans generations, their market invites you to uncover hidden gems and embrace the allure of timeless craftsmanship.
Stop 4: Perth Flea Market
📍
3004 Rideau Ferry Rd, Perth, ON K7H 3C7
Explore the Perth Flea Market and immerse yourself in a world of captivating antiques. Their diverse collection encompasses everything from indoor and outdoor furniture to charming homeware and elegant linens. Whether you're a seasoned collector or a curious explorer, their market offers a treasure trove of vintage finds that are waiting to be discovered.
Savor Lunch at North Folk Café

North Folk Café
📍 1 Gore St W, Perth, ON K7H 2L5

Nestled in coziness, North Folk Café beckons with its warm embrace as a charming café and bakery. Here, every cup of coffee is a masterpiece, crafted from locally roasted espresso beans that deliver an infusion of richness and flavor. Alongside this liquid delight, indulge in an array of offerings, from their artisanal Artizen Kombucha to handcrafted gelato that caresses the palate. The café's dedication to inclusivity shines through its delectable desserts, spanning organic, gluten-free, and vegan creations, ensuring a delightful experience for every taste bud.

---
Another Delightful Option for Weekday Dining

Picnic Cafe & Catering
📍 1865 Rogers Rd, Perth, ON K7H 0B2
Step into a world of culinary delight at Picnic Cafe & Catering, where exceptional flavors and a welcoming ambiance await. Fuel your day with the finest Reunion Coffee Roasters brews, sourced sustainably and traded fairly, ensuring a coffee experience that stands out. Their carefully curated tea selection from Pluck offers an array of black, green, and herbal blends, while locally crafted Artizen Kombucha adds a refreshing twist.

Indulge in house-baked treats, including delectable scones, mouthwatering brownies, and irresistible cookies. Their menu caters to a range of tastes, featuring options from sushi bowls and kimchi Reuben sandwiches to enticing mezze platters.
Explore the Charms of Downtown Perth
Discovering downtown Perth offers a myriad of exciting possibilities. Here's a selection of suggestions to kickstart your exploration:
Indulge in Irresistible Chocolate Delights
What accompanies coffee in perfect harmony? For numerous coffee enthusiasts, the ideal pairing is often a delectable piece of chocolate. In Perth, a realm of locally crafted, family-run chocolates awaits, ready to elevate your coffee moments at home or in the office with an exquisite and delightful touch.
---
Perth Chocolate Works
📍
17 Wilson St E, Perth, ON K7H 1L3
With an unwavering commitment to quality, their confections are born from carefully sourced, premium ingredients, often gathered from local sources to infuse a touch of community love. The heart of their enchantment unfolds within their on-site kitchen, where small batches are meticulously crafted, ensuring a symphony of flavors in every bite.

Step into this delectable realm and explore an ever-changing tableau of treats, an orchestra of goods that dance with the rhythm of the day, week, and season.
Village Treats
📍 70 George St, Lanark, ON K0G 1K0

Begin the trail in the small village of Lanark, home to the well-known Village Treats a family run business that has been creating decadent chocolate confections for more than 40 years.

Here, they have perfected the art of producing high-quality chocolates made from traditional recipes and techniques.
Extend Your Excursion: A Delightful Two-Day Getaway
Eager to unearth the treasures of this heritage town? Extend your stay by an extra day and dive into our array of themed tours, such as our captivating book and farm tours in Perth.

Explore our website for comprehensive trip-planning resources, whether you're sketching out a thrilling paddling expedition or immersing yourself in the tapestry of our lively festivals and events. From the Maple Syrup Festival to the Stewart Park Music Festival and the Garlic Festival, there's a plethora of vibrant experiences waiting to be discovered.
Craft your journey using our thoughtfully designed itineraries