Climate Action
Climate change affects human health and the health of our environment. Climate change and global warming lead to:
More frequent and extreme weather events
Damage to ecosystems and the environment
Food insecurity
The spread of invasive species
Increase in diseases
At Lanark County we recognize the impact that climate change has within our community. We are tackling the issue of climate change through a Climate Action Plan and other climate initiatives.
Climate Action Seminar Series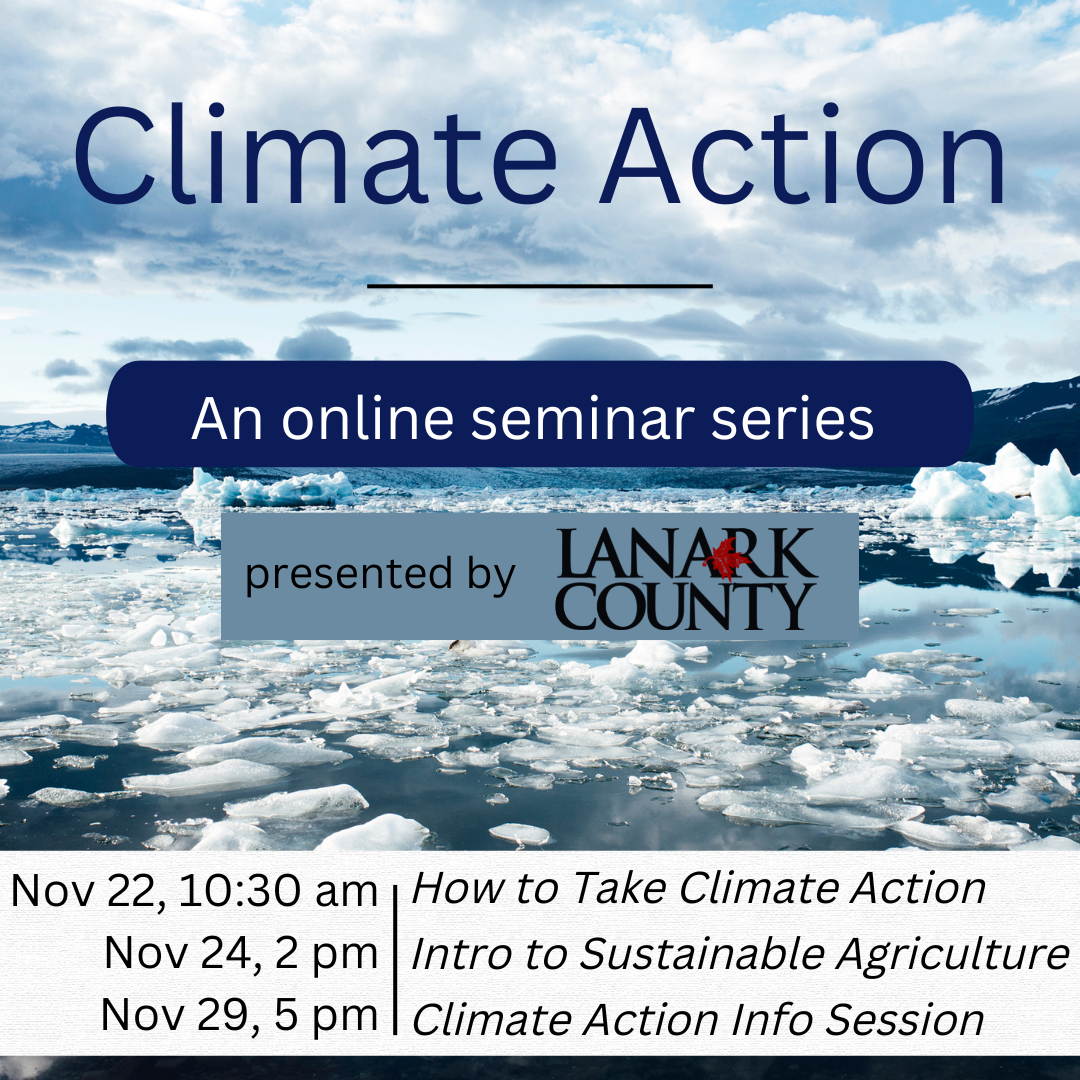 Climate action plan
The County of Lanark is committed to making an impact on climate change through the development and implementation of the Climate Action Plan. With support from the Federation of Canadian Municipalities we will reduce our greenhouse gas emissions using the Partners for Climate Protection (PCP) five step milestone process. This process aims to reduce our greenhouse gas emissions both as a corporation and in the community.
Milestones
Milestone 1: Create a greenhouse gas (GHG) emissions inventory and forecast for corporate emissions and community emissions.
Milestone 2: Set an emissions reduction target.
Milestone 3: Develop a local action plan.
Milestone 4: Implement the local action plan or set of activities.
Milestone 5: Monitor progress and report results.
Climate Action Committee
The Climate Action Committee includes a representative from all lower-tier municipalities and Smiths Falls, as well as two PCP and Climate Network Lanark representatives. The committee's mission is to provide strategic direction for the development of Lanark County's Climate Action Plan and recommendations for climate action initiatives in Lanark County by engaging with the community, climate experts, and stakeholders.
Climate Initiative Dashboard
Corporate Climate Action Table
Community Climate Action Table
Climate initiatives
If you have any questions about Lanark County's Climate Action Plan or climate change initiatives please send us an email or call us at 613-267-1353.
Tree planting
Lanark County's One Million Tree Program aims to plant one million trees over the next ten years in partnership with the Rideau Valley Conservation Authority (RVCA). Trees play an important role in carbon capture to reduce our greenhouse gas emissions throughout the community.
We want to promote tree planting in Lanark County. If you want to plant more trees on your property, you can apply to RVCA's tree planting program. RVCA's tree planting program provides subsidized trees and custom planting plans for landowners with a minimum of 1.25 acres of suitable land.
Plastic reduction
Lanark County has banned single use plastic bags and straws as of July 1st, 2021. Compliance with the local ban is voluntary. Businesses and residents are asked to voluntarily make the switch from plastic bags and straws to alternative reusable products. The local plastic ban applies to:
Plastic shopping, checkout, and takeout bags
Single use plastic straws
At the end of 2021, the Federal Government is banning selected single use plastic products. The Federal single use plastic ban will include plastic bags, straws, stir sticks, six-pack rings, cutlery and food ware as part of their plan to achieve zero plastic waste by 2030. To achieve this, the federal, provincial, and territorial governments have adopted a Canada-wide Action Plan on Zero Plastic Waste.
For businesses
Lanark County is providing local businesses with free bring your reusable bag (BYRB) window stickers to remind customers to bring their reusable bags when shopping. Email to receive a free BYRB sticker.
If your business is interested in sponsoring reusable bags, please send us an email.
Sustainably.eco
Lanark County has joined the Sustainably.eco Strategic Associate Program. Sustainably.eco aims to connect conscious businesses and people committed to sustainability by promoting sustainable actions and products through their platform. Businesses can apply for and be awarded for 12 badges upon fulfilling the requirements. If your business is interested in becoming a sustainably.eco member, send us an email.
Climate network Lanark
The Climate Network Lanark was established by the Lanark County Stewardship Council to connect, coordinate, facilitate and support collaborative community efforts to address climate change. The Climate Network Lanark provides advice and support towards the development of Lanark County's Climate Action Plan. For more information on how to get involved, please visit Climate Network Lanark's web page.
Updates
To get updates about climate initiatives in Lanark County, please subscribe to this page below and view our Climate Newsletter.
Follow us on Facebook at the Lanark County Climate Action Information Page.