Welcome to Lanark County Children's Services, how can we help?
COVID-19 Emergency Child Care
Targeted Emergency Child Care
As per the provincial announcement all elementary and secondary schools in the province are to move to teacher-led remote learning as of April 19, 2021.
All child care for non-school aged children and licensed home child care will remain open with no changes. Before and after school programs will be closed and free targeted emergency child care for school-aged children only will be available for health care and frontline workers.
How do I know if I may be eligible for Free Targeted Emergency Child Care?
Please refer to the list of eligible workers. Please note that the List of Eligible Workers is set by the Province and is not the same as the Essential Work Place list.
What other factors are taken into consideration when determining eligibility?
Do you have another adult in the home?
Are you able to do your job from home?
Where are Targeted Emergency Child Cares located In Lanark County?
Locations:
Almonte: Holy Name of Mary School, 110 Paterson St, Almonte ON K0A 1A0
Perth: TayCare: Stewart School, 7 Sunset Blvd Perth ON, K7H 2N6
Smiths Falls: St. Francis School, 4 Ross St, Smiths Falls, ON K7A 4L5
How do I apply?
After review of the eligible professions and determining you are eligible for Emergency Child Care please email lclarke@lanarkcounty.ca to begin the application process.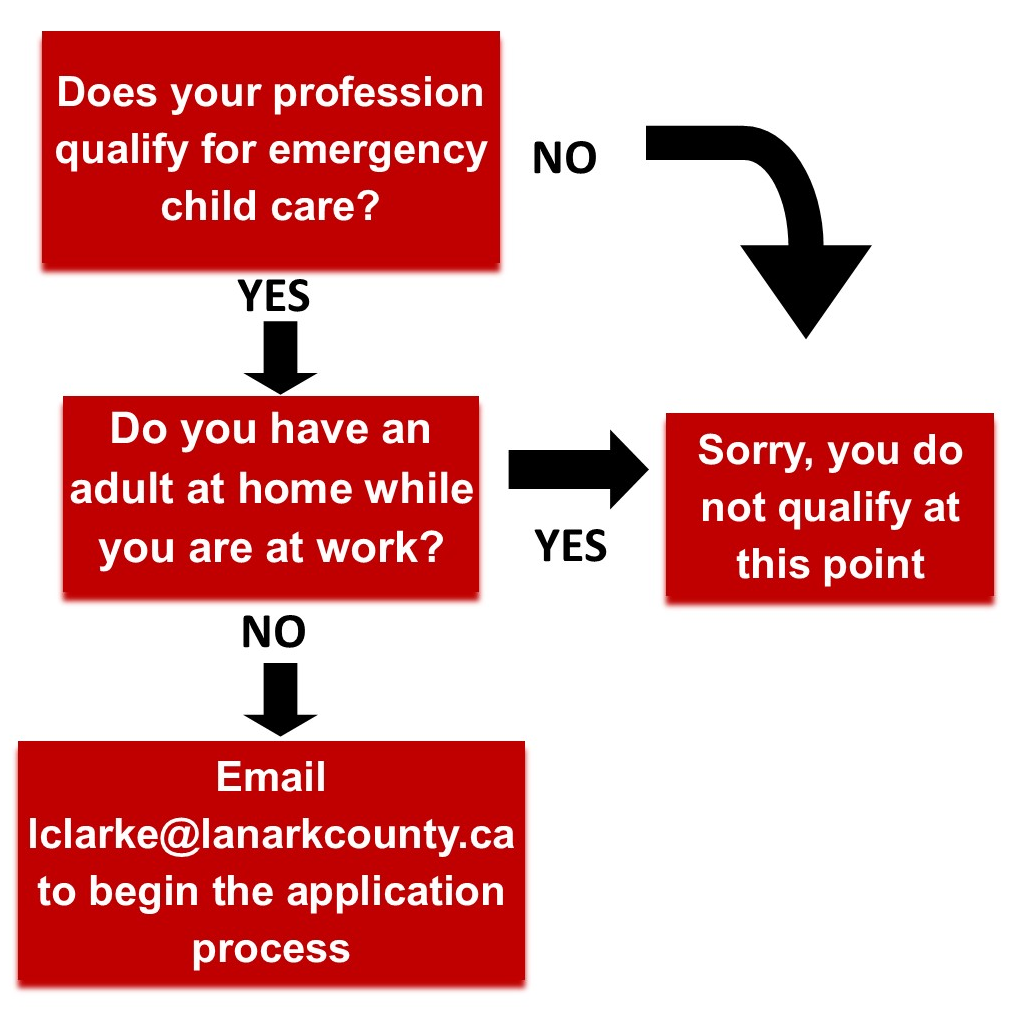 What do I need to apply?
Verification of employment as an essential service worker (pay stub, name badge, etc.)
Proof that you live or work in Lanark County
Hours of work
Information of children: Name, age, list of immunizations
Emergency contacts
Confirmation that children have no symptoms, have not travelled out of Canada in the last 14 days and no contact with anyone having COVID-19
When Does Targeted Emergency Child Care Open in Lanark County?
Targeted Emergency Child Care will be available starting Monday April 19, 2021.
Other Emergency Child Care Details:
Targeted Emergency Childcare for school age children is not a replacement for school learning. Assistance will be offered by childcare providers, but child care staff are not responsible for ensuring school curriculum is followed. Students are welcome to bring their computers or paper learning materials. Providers are not responsible for taking care of computers that you bring. Centres are able to offer morning and afternoon snacks, parents are expected to pack a lunch for their child on a daily basis.
Spaces are limited and reserved for those with no access to child care. Once spaces are filled a wait list will be maintained.
Child Care Providers
Early Childhood Educators
Professional development opportunities
About Children's Services
We administer funding under the Provincial Child Care and Early Years Act which helps make licensed child care affordable.
For more information about Lanark County Children's Services and the direction and steps that we have taken to make Child Care and Early On programs available and accessible to everyone please check out our service plan created in 2019.