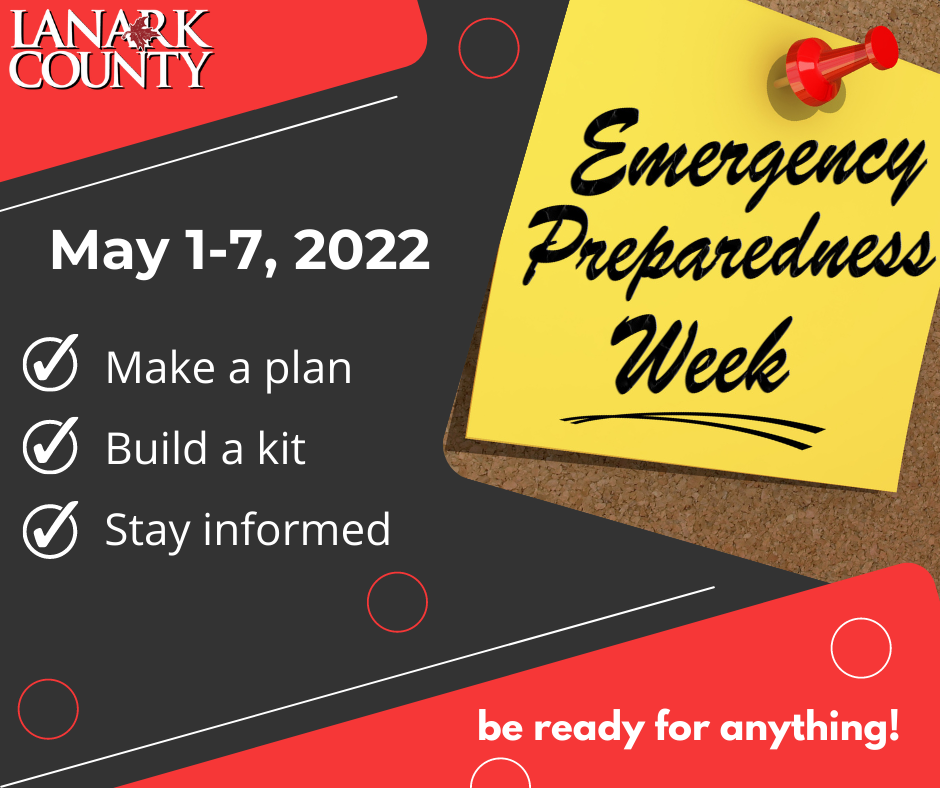 Emergency Survival Kit - Bookmark
Emergency Preparedness Brochure
Community safety is a top priority in Lanark County. We are committed to protecting the health, safety, welfare and property of the citizens of Lanark County from the effects of a natural, technological or human caused emergency.
We will support our local municipalities in the implementation and operation of their emergency plans. In addition, we will provide available resources as required during an emergency in order to minimize the impact on the community.
Ambulance Services
Lanark County assumed the responsibility for the provision of land paramedic services throughout its geographic area in 2001. The Almonte General Hospital provides the administrative, operational functions associated with the delivery of this service.
The County's land paramedic service strives to provide rapid response to emergencies and a high level of pre-hospital care, meeting standards outlined in provincial legislation and regulations. The Lanark County Paramedic Service operates from five bases. (Perth, Smiths Falls, Carleton Place & District Hospital, Almonte General Hospital and Lanark Village)
Rescue Services
Lanark County owns and maintains a fleet of three heavy rescue vehicles. Each of the vehicles are equipped to provide assistance and support to any of the fire services within the County, for rescue of persons involved in motor vehicle collisions. The heavy rescue vehicles are situated to provide efficient, effective and timely response to all geographical areas within Lanark County.
Fire Services
While the responsibility to provide fire protection is with the local municipality, Lanark County Council decided to provide communications services for Lanark County Fire Departments under one agreement. This service is provided by the Town of Smiths Falls Fire Department.
See below for a list of our local fire services:
Road Closures
Keep up to date on road closures and works on roads under the jurisdiction of Lanark County through Municipal 511.
Municipal 511 is a comprehensive map-based road information management and communications web application which includes a common public map. Through Municipal 511 you can find road information such as emergency road closures, current and future construction events, special events, load restrictions, truck routes, winter road conditions and significant weather events.