Lanark County Media Release - Blakeney Bridge reopening early: November 18, 2022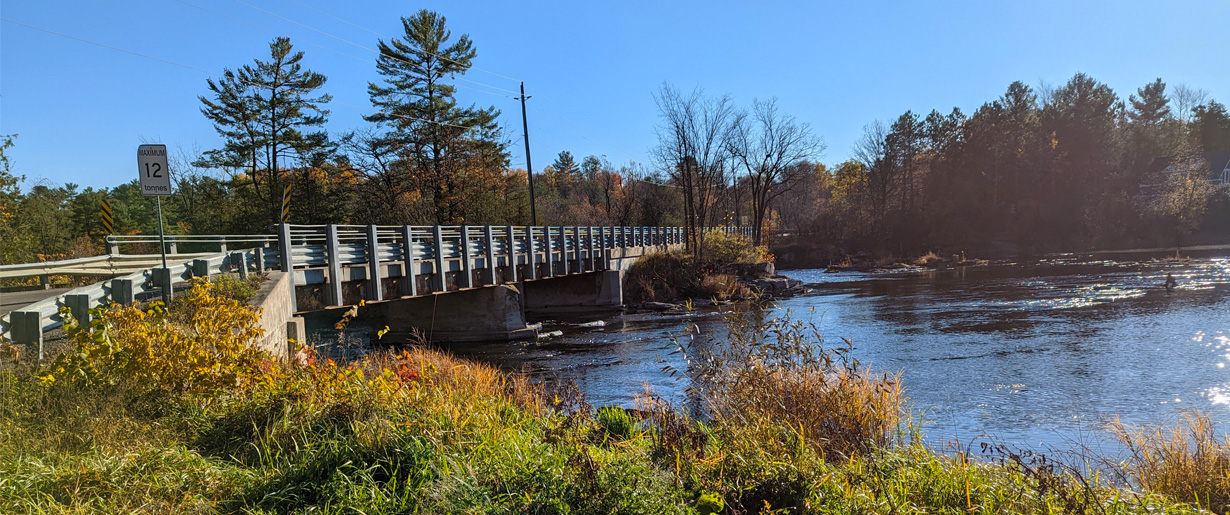 For immediate release Nov. 18, 2022
Blakeney Bridge to reopen ahead of schedule
Blakeney Bridge in Mississippi Mills is scheduled to reopen on Nov. 22, several days ahead of schedule.
The bridge closed on Nov. 14 for a two-week period in order to complete repairs required to restore its load capacity. The bridge consists of three structures crossing the Mississippi River between Almonte and Pakenham and is located on Blakeney Road just west of Blakeney.
"All structural steel repairs and concrete deck top patches have been completed," said Lanark County Public Works Manager Sean Derouin. "The bridge will re-open once the new concrete has cured for a minimum of 96 hours, which is at approximately noon on Tuesday, Nov. 22."
Recent inspections identified that the current 12-tonne load limit on the single-lane bridge should be further reduced to 5 tonnes unless the remedial work was undertaken. The 12-tonne limit can now be restored.
Lanark County Council has authorized the replacement of the bridge, which was built in 1915, based on recommendations from the inspection reports. The replacement is expected to take place in 2023 or 2024, and a public information centre is planned for Dec. 1 from 6 to 8 p.m. at the Almonte Community Centre (John Levi Community Centre). Learn more at www.lanarkcounty.ca/blakeneybridge.
– 30 –
For more information/media interviews, contact: Sean Derouin
Public Works Manager Lanark County
1-888-9-LANARK, ext. 3194
E-mail: sderouin@lanarkcounty.ca