Lanark County Media Release - Inaugural Meeting: November 22, 2022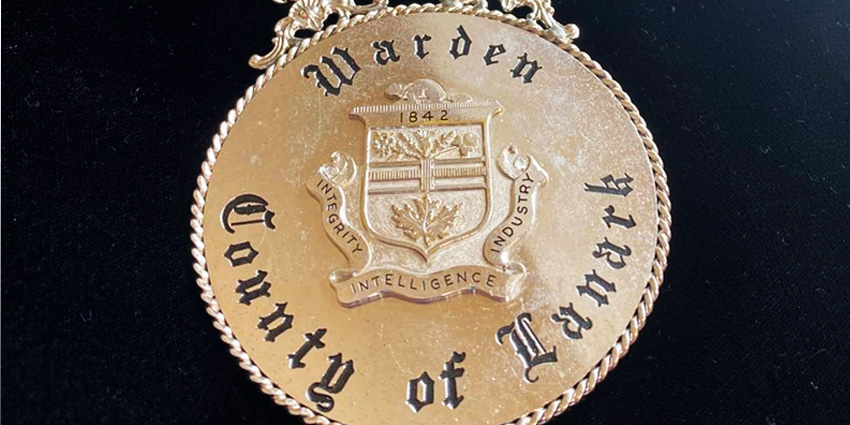 For immediate release Nov. 22, 2022
Peter McLaren sworn in as 2023 Lanark County Warden
Councillor Peter McLaren (Lanark Highlands Reeve) was sworn in as Lanark County's 2023 warden at the inaugural meeting on Tuesday afternoon.
McLaren was nominated by Councillors Steve Fournier (Drummond-North Elmsley Reeve) and Bill King (Lanark Highlands Deputy Reeve).
Fournier highlighted McLaren's two terms with Lanark Highlands and involvement in a wide range of committees. "He is always looking to build consensus," he said.
King said that after serving with McLaren for two terms he has "come to admire Peter's style of leadership. He has the temperament to deal with challenges.
McLaren highlighted his experience in agricultural and involvement with several environmental committees, including ALUS Lanark, which is a stewardship organization led by farmers for farmers, as well as the county's Agriculture Advisory Working Group and the Community Forest Sub- committee. He also has a background in construction and transportation.
McLaren pledged to "listen to everyone," and said he sees health care as the biggest current challenge, particularly the issue of the cost of contract workers. He also noted the high inflation rate could lead to consideration of pulling back on some local services.
McLaren thanked council for their support and introduced his wife Suzanne and members of council and staff who were on hand "Council is like another family," he said. "We are brothers and sisters around the table."
In his outgoing remarks, Past Warden John Fenik (former Perth Mayor) commented on the many initiatives undertaken by Lanark County in the past year, including the community action plan, One Million Trees program and capital work at Lanark Lodge. He credited Lanark Lodge staff and residents for their perseverance during the pandemic. He also highlighted progress in the housing portfolio, the new $10-per-day child care program, strong fiscal management and public works capital projects, including 50 per cent of county roads now having paved shoulders.
Fenik offered five pieces of advice to the new council: Respect one another, respect county staff and listen to their advice, do the work of Lanark County around the council table, wear the county hat when doing the work of the county, and have fun. "There is always laughter at each meeting," he said. "In my 20 years here, some amazing things have been accomplished."
Committee chairpersons were approved at the meeting as well, including Councillor Christa Lowry (Mississippi Mills Mayor) for Corporate Services, Councillor Judy Brown (Perth Mayor) for Community Services, Councillor Richard Kidd (Beckwith Reeve) for Economic Development and Councillor Steve Fournier (Drummond/North Elmsley Reeve) for Public Works. All chair positions were acclaimed. McLaren also named a striking committee, which appoints members to various committees and boards. Council reconvenes Wednesday at 5 p.m. for its regular meeting.
– 30 –
For more information, contact:
Jasmin Ralph, Clerk Lanark County
1-888-9-LANARK, ext. 1502